The New York Times today laid out the seamy tale of Seth Tobias, a hedge fund manager worth $25 million who was found floating face down in his swimming pool in Jupiter, Florida. While the paper reports that "police did not consider his death suspicious" (he died of a heart attack), a battle between family members over the estate is raising murder accusations and exposing details of the investment manager's lifestyle which included a South Florida go-go boy named Tiger (photo via Fleshbot - nsfw):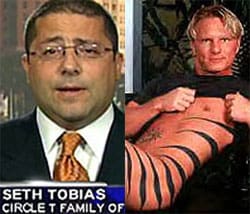 The NYT reports: "Mr. Tobias's four brothers and Mrs. Tobias are locked in a legal battle over the estate, which is worth at least $25 million. And, in a civil complaint, they have gone so far as to accuse her of murder. The brothers, Samuel, Spence, Scott and Joshua, claim Mrs. Tobias drugged her husband and lured him into the pool. Bill Ash, a former assistant to Mr. Tobias, said he had told the police that Mrs. Tobias confessed to him that she had cajoled her husband into the water while he was on a cocaine binge with a promise of sex with a male go-go dancer known as Tiger. Mrs. Tobias's lawyers call the claims outrageous. She has not been accused of any crime. The mystery deepened when it emerged that Mrs. Tobias spent $9,628 to have the pool drained and resurfaced days after her husband died, according to documents filed in an unrelated case..."
Continued AFTER THE JUMP...
"…Even after the couple reconciled, they fought constantly, mostly over money, according to several friends, who asked not to be identified for fear of being subpoenaed in connection with the case or because they were worried that their professional reputations would be harmed by being associated with the case. At one point, Mrs. Tobias bought a Porsche on her credit card and then cried when Mr. Tobias told her to return it, one friend recounted. They also secretly frequented a gay bar called Cupids in West Palm Beach, in a strip mall along a main thoroughfare. It was there, according to Mr. Ash, that Mr. Tobias first met Tiger. 'Seth used to come in here back when it was crazy,' said Adiel Hemingway, the longtime manager of Cupids. As a flat-screen television blared hard-core gay pornography, he said that Mr. Tobias often came to the club with his wife. Mr. Hemingway took out a picture of Tiger in his office. Tiger is blond and covered with tattoos that look like stripes. 'I know exactly who he is, but I'm not telling you,' Mr. Hemingway said. The Tobias brothers have subpoenaed Tiger, using the address of Cupids, but have been unable to learn his true name."
However, it didn't take long for the boys at Fleshbot (nsfw) to track him down.
A Lurid Aftermath to a Hedge Fund Manager's Life [nyt]
Tiger Hunt: The Sad Story Of Seth Tobias [fleshbot]