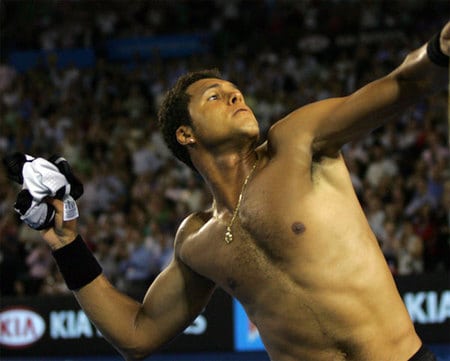 There's been a major upset at the Australian Open. Jo-Wilfried Tsonga of France has risen through the draw and overnight the #38-ranked player in the world put away #2 Rafael Nadal 6-2 6-3 6-2 in less than two hours to face either Roger Federer or Novak Djokovic in the final on Sunday. Now that's worth throwing your shirt into the stands for.
Tsonga defeated #14 Mikhail Youzhny and his compatriot, #8 Richard Gasquet to reach the semi-final.
You may have missed...
Sportrait: Michael Phelps [tr]
Sportrait: Brett Favre [tr]
Sportrait: Raúl [tr]
Sportrait: 2007 Heisman Award Hotties Tim Tebow, Darren McFadden, Colt Brennan, and Chase Daniel [tr]
Sportrait: David Kopay [tr]
One more shot, AFTER THE JUMP...