Prominent Serbian tennis player Novak Djokovic stood with the Serbian people who have been rioting since Kosovo's declaration of independence, which the U.S. has stood behind. He release this video message (translated by a YouTube commenter):
Hello to all of Serbia and all who are with us
This is the toughest of times in the history of Serbia
and I want to thank eveyone who has come here to this meeting
and to show the world that we are not small and weak,
that we are united and willing to defend what is ours
I am sad I can not be with you physically right now
and I want eveyone to know that my family and myself are with kosovo always
entire situation is very hard on me as entire history of serbian nation is stemming from kosovo
kosovo is serbian and shall remain so forever.
Meanwhile, during the burning of the U.S. Embassy some of the rioting Serbs had this message for CNN: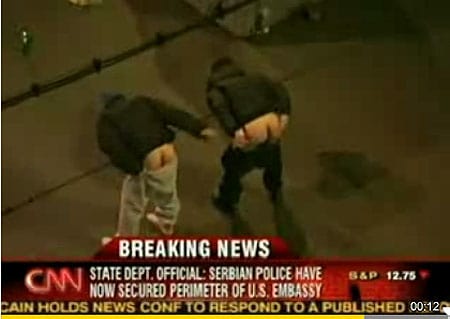 That clip, AFTER THE JUMP...
Tensions high as Serbs reject Kosovo independence [iht]
(Djokovic via down the line)