Last week I posted an item about the Family Research Council's Peter Sprigg, who was interviewed by the Medill Reports about the Uniting America Families Act, which would eliminate discrimination with regard to foreign partners of gay and lesbian citizens, allowing them to obtain permanent resident status in the same way that spouses do.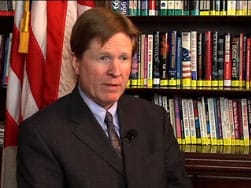 Sprigg told Medill Reports: "I would much prefer to export homosexuals from the United States than to import them into the United States because we believe homosexuality is destructive to society."
In a statement on the group's blog yesterday, Sprigg apologized for his statement, but not for his support of current immigration policy:
Said Sprigg: "In an interview with Medill News Service that was posted on the Internet last week, I discussed FRC's opposition to an immigration bill that would allow foreign nationals who are the same-sex partners of American citizens to immigrate to the United States on the same basis as foreign spouses of American citizens. FRC does not believe that homosexual relationships are the equivalent of marriage, and we therefore oppose any legislation that would treat such relationships as the equivalent of marriage. In response to a question regarding bi-national same-sex couples who are separated by an international border, I used language that trivialized the seriousness of the issue and did not communicate respect for the essential dignity of every human being as a person created in the image of God. I apologize for speaking in a way that did not reflect the standards which the Family Research Council and I embrace."
I've posted the original interview, AFTER THE JUMP...