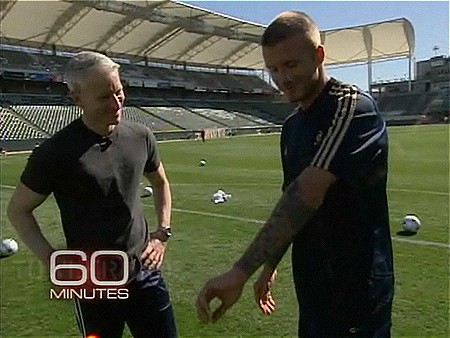 Anderson Cooper learns how Beckham "bends it" on 60 Minutes this Sunday in a profile of the L.A. Galaxy superstar. Cooper tends goal while Beckham demonstrates his signature kick and Cooper gets in the game, making a few valiant attempts to block the goal. I'd like to see some of those other 60 Minutes correspondents try and do the same. Of course, when the motivation is getting a guided tour of Beckham's tattoos, who wouldn't give the goal a try...
Below, click to enlarge a couple screen caps of Cooper's goal-blocking attempts.
Watch two clips from the segment, AFTER THE JUMP...
You may have missed…
Anderson Cooper on the Lawrence King Murder [tr]
Even Schwarzenegger is a Fan of Anderson Cooper's Biceps [tr]
Brand Beckham Continues Quest for World Domination [tr]