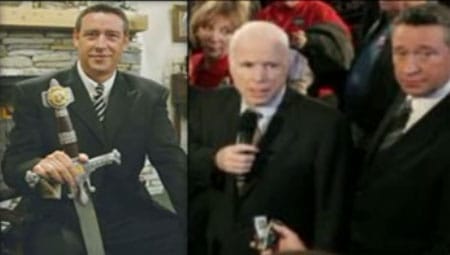 The Columbus Dispatch reports: "Meanwhile, McCain campaigned yesterday in Cincinnati, where he appeared with the Rev. Rod Parsley of World Harvest Church of Columbus. McCain called Parsley a 'spiritual guide,' while Parsley later labeled McCain a 'strong, true, consistent conservative.'...In Cincinnati, Parsley shared the stage with McCain during a rally at Hamilton County Memorial Hall in Cincinnati but didn't speak. In a later interview, Parsley said he supports McCain because the senator will be tough on national security and 'protect the unborn.' The megachurch pastor, criticized in the past for mixing religion and politics, acknowledged that McCain isn't the ideal candidate for evangelical Christians, who overwhelmingly backed President Bush in 2004. 'Yet at the same time, when you put John McCain up against Hillary Clinton or Barack Obama, the ideological and philosophical differences are overwhelming,' Parsley said."
McCain, who as we noted yesterday, has also embraced the support of anti-gay Pastor John Hagee, is assembling a whole pew of homophobes.
Check Parsley's toxic anti-gay drivel AFTER THE JUMP...
(via queerty and good as you)
Recently
John McCain Embraces, Rather than Denounces, Wingnut John Hagee [tr]