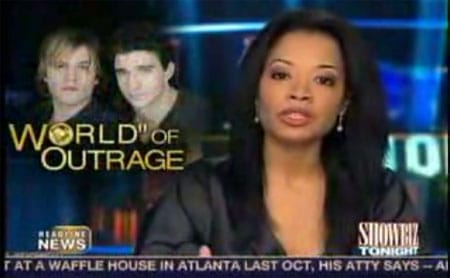 The fan protest over CBS treatment of gay characters Luke and Noah on As the World Turns has been getting loads of attention, since word of the online petition broke in late February.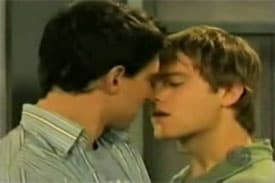 Monday night, Showbiz Tonight ran a segment on the protest featuring gay PR man Howard Bragman head-to-head with conservative radio talk show host Ben Ferguson. Listen to their debate AFTER THE JUMP...
The American Family Association has issued an "action alert" against Procter & Gamble, the show's owner and main sponsor.
Said Randy Sharp, AFA's director of special projects: "What Procter & Gamble has done by not having a neutrality policy on any controversial issue [is] they've now put themselves in the middle of this battle between homosexual activists and those who aspire to more traditional family values -- especially on network TV in the public forum."
OUT magazine sent a reporter behind the scenes at As the World Turns to get some answers.
Popnography reports: "Even the show's straight supercouple is calling foul: 'Austin Peck (Brad) and Terri Colombino (Katie) -- whose steamy, straight sex scenes are by far the most racy on the show -- don't mince words when asked about the Nuke cool-down. 'ATWT got scared off because there were two men,' Peck tells Out. Colombino says there's one simple reason her character's sex life won't suffer the same fate: 'I have a vagina.'"
Though actors on the show suggest the producers are building up to a Luke-Noah kiss during the all-important sweeps week. Said the actor: "There's an old saying in soaps -- make them wait. And perhaps that's been their intention all this time. Soaps are dying, and losing audience every day -- and they've been handed a life jacket. We'd be dumb not to put it on."
Check out the clip from Showbiz Tonight, AFTER THE JUMP...
Exclusive @ Out.com: Behind the scenes at ATWT [popnography]
Their soap smooch made history. Fans ask: Will it happen again? [boston globe]
Recently
Fans Protest Bias Against Gay Affection on As the World Turns [tr]