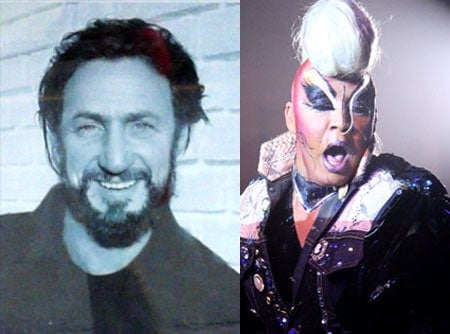 Mark Martinez (aka drag queen Flava) got more than he bargained for in his role as disco singer Sylvester in Gus van Sant's Harvey Milk biopic Milk, which recently wrapped in San Francisco, reports E's Marc Malkin.
A singing performance at Harvey Milk's birthday party turned out to be a different kind of performance altogether, according to Flava:
"All of a sudden, Sean's pointing at me, and he's talking to the assistant director. The AD comes up to me and says, 'Just to let you know, you are now going to break up Sean and [costar] James Franco's conversation. You're going to grab Sean, and Sean's going to be really excited, and he's going to kiss you.' I'm performing, and he comes onto the dance floor. He grabs me, and he just slaps the biggest kiss on me...It felt like the kiss was forever. I'm like, Is he going to stop? I had to close my eyes. I couldn't believe it. I'm thinking, We gotta do this thing again. We just didn't get it right. But Gus was like, 'It's perfect, perfect, perfect.' I said, 'No! It's not perfect!' Sean was laughing at me."
Check out a short clip of Flava getting ready for a performance, AFTER THE JUMP...
Sean Penn's Man-on-Man Disco Kiss [marc malkin]
Recently
Gus van Sant's Milk Finishes up in San Francisco [tr]
Bryan Singer to Cameo in Gus van Sant's Harvey Milk Film?
Milk Screenwriter Dustin Lance Black Spills [tr]
Josh Brolin on Tackling the Role of Milk Assassin Dan White [tr]
James Franco Hangs on to Milk Mustache [tr]
Milk in Action on Castro Street [tr]
Sean Penn and James Franco as Lovers in Milk [tr]
Milk: The Transformation of Castro Street [tr]