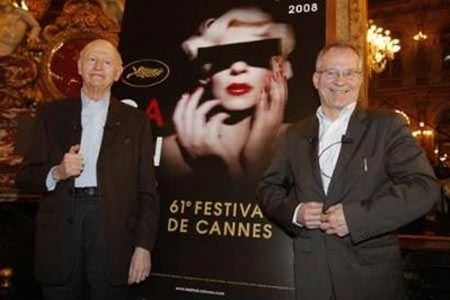 Gilles Jacob (left), president of the 61st Cannes Film Festival, and Thierry Fremaux (right), revealed hot tranny mess Amanda Lepore (warning: site NSFW) to be the new face of the Cannes Film Festival yesterday.
Actually, it's not Amanda, but why not? The poster was shot by David Lynch and designed by film one-sheet artist Pierre Collier.
Check it out, as well as the line-up for this year's festival, which goes from May 14-25,
AFTER THE JUMP...
CANNES LINE-UP (via Variety)
CANNES FILM FESTIVAL photo MOTORINA IN COMPETITION Competition list revealed
"24 City," China, Jia Zhangke
"Adoration," Canada, Atom Egoyan
"Changeling," U.S., Clint Eastwood
"Che," Spain, Steven Soderbergh
"Un Conte de noel," France, Arnaud Desplechin
"Daydreams," Turkey, Nuri Bilge Ceylan
"Delta," Hungary, Kornel Mundruczo
"Il Divo," Paolo Sorrentino, Italy
"Gomorra," Italy, Matteo Garrone
"La Frontiere de l'aube," France, Philippe Garrel
"Leonera," Argentina, Pablo Trapero
"Linha de Passe," Brazil, Walter Salles, Daniela Thomas
"La mujer sin cabeza," Argentina, Lucrecia Martel
"My Magic," Singapore, Eric Khoo
"The Palermo Shooting," Germany, Wim Wenders
"Serbis," Philippines, Brillante Mendoza
"The Silence of Lorna," Belgium, Jean-Pierre Dardenne, Luc Dardenne
"Synecdoche, New York," U.S., Charlie Kaufman
"Waltz With Bashir," Israel, Ari Folman
OUT OF COMPETITION
"Indiana Jones and the Kingdom of the Crystal Skull," U.S., Steven Spielberg
"Kung Fu Panda," U.S., Mark Osborne, John Stevenson
"The Good, the Bad, the Weird," South Korea, Kim Jee-woon
"Vicky Cristina Barcelona," U.S., Spain, Woody Allen
MIDNIGHT SCREENINGS
"Maradona," Spain-France, Emir Kusturica
"Surveillance," U.S., Jennifer Lynch
"The Chaser," South Korea, Na Hong-jin
SPECIAL SCREENNGS
"Ashes of Time Redux," Hong Kong, Wong Kar-wai
"Of Time and the City," U.K., Terence Davies
"Roman Polanski: Wanted and Desired," U.S.-U.K., Marina Zenovich
"Sangue Pazzo" (Crazy Blood), Italy-France, Marco Tullio Giordana
SCREENING OF THE PRESIDENT OF THE JURY
"The Third Wave," U.S., Alison Thompson