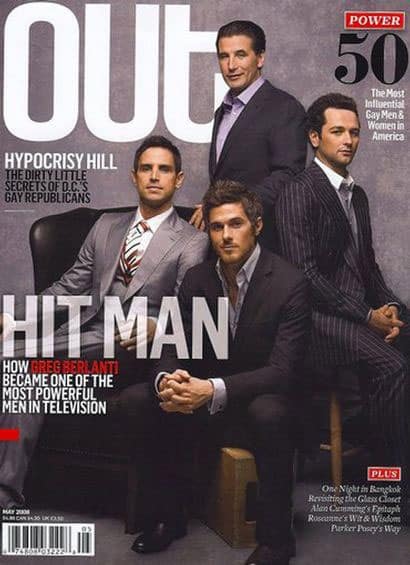 OUT magazine has released its second annual "Power" issue, ranking the 50 most influential gays and lesbians in America. They write: "The rankings were determined by scoring each candidate on these criteria: (1) political clout; (2) pop-cultural resonance; (3) individual wealth; and (4) current personal profile."
At least one of them has never officially come out of the closet.
Check out who made the list, AFTER THE JUMP...
50. Kelly Bush
49. Benny Medina
48. Brian Swardstrom
47. Susan Arnold
46. Martina Navratilova
45. Jonathan Burnham
44. Bob Greenblatt
43. Adam Rose
42. Bryan Lourd
41. Carolyn Strauss
40. Christine Vachon
39. Jon Stryker
38. Lorri L. Jean
37. Simon Halls & Stephen Huvane
36. Annie Leibovitz
35. Randy Lovely
34. Craig Zadan & Neil Meron
33. Jim Nelson
32. Jeremy Bernard & Rufus Gifford
31. Rosie O'Donnell
30. Sheila Kuehl
29. Adam Moss
28. Tim Gunn
27. Jasper Johns
26. Fred Hochberg
25. Tom Ford
24. Suze Orman
23. Anthony Romero
22. Nick Denton
21. Nate Berkus
20. Andrew Sullivan
19. Greg Berlanti
18. Christine Quinn
17. Martha Nelson
16. Perez Hilton
15. Brian Graden
14. Rich Ross
13. Jodie Foster
12. The New York Times Gay Mafia
11. Scott Rudin
10. Peter Thiel
9. Marc Jacobs
8. Joe Solmonese
7. Jann Wenner
6. Andrew Tobias
5. Tim Gill
4. David Geffen
3. Anderson Cooper
2. Barney Frank
1. Ellen DeGeneres
(image source)