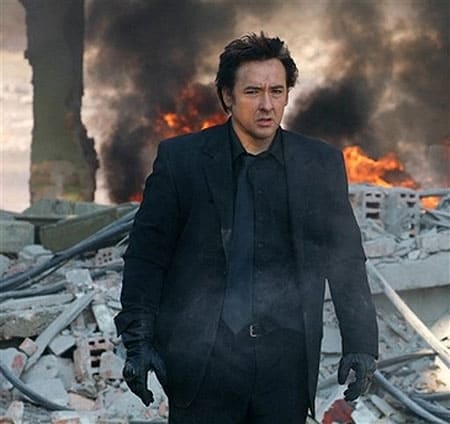 Vanity Fair asks John Cusack: "Who are your heroes in real life?"
Says the actor, who stars in the summer political satire War, Inc (above): "Let's go with Jesus. Not the gay-hating, war-making political tool of the right, but the outcast, subversive, supreme adept who preferred the freaks and lepers and despised and doomed to the rich and powerful. The man Garry Wills describes 'with the future in his eyes … paradoxically calming and provoking,' and whom Flannery O'Connor saw as 'the ragged figure who moves from tree to tree in the back of [one's] mind.'"
He's also asked what living person he most despises: "Very tough question. They exist in the realm of war profiteers. These men and women are the lowest form of human consciousness, truly and completely spiritually fucked. Theirs is an amazing satanic dance: create a new market with war, bar competitors from the aftermath, then pay your own companies at a cost-plus basis, which guarantees profits, all at the taxpayers' expense. They are the biggest welfare freaks on the planet."
The trailer for War, Inc, AFTER THE JUMP...