Late yesterday, Politico published a motherlode of quotes from Scott McClellan's memoir What Happened: Inside the Bush White House and What's Wrong with Washington
which was previewed back in November, and is set to be released this week.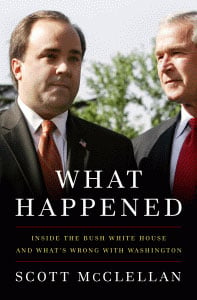 Instead of the "largely affectionate portrait" and "a few swipes" which most expected, the book takes a more critical tone than anticipated, discussing how the Bush administration "veered terribly off course." Here's a bit:
"One of the worst disasters in our nation's history became one of the biggest disasters in Bush's presidency. Katrina and the botched federal response to it would largely come to define Bush's second term. And the perception of this catastrophe was made worse by previous decisions President Bush had made, including, first and foremost, the failure to be open and forthright on Iraq and rushing to war with inadequate planning and preparation for its aftermath."
On the Plame case: "I had allowed myself to be deceived into unknowingly passing along a falsehood. "It would ultimately prove fatal to my ability to serve the president effectively. I didn't learn that what I'd said was untrue until the media began to figure it out almost two years later. Neither, I believe, did President Bush. He, too, had been deceived and therefore became unwittingly involved in deceiving me. But the top White House officials who knew the truth — including Rove, Libby and possibly Vice President Cheney — allowed me, even encouraged me, to repeat a lie."
Much more at Politico...
Karl Rove commented on the quotes, saying McClellan sounds "like a left-wing blogger." Watch it, AFTER THE JUMP...
Previously
Scott McClellan Points Finger at Bush, Cheney Over False Iraq Info [tr]