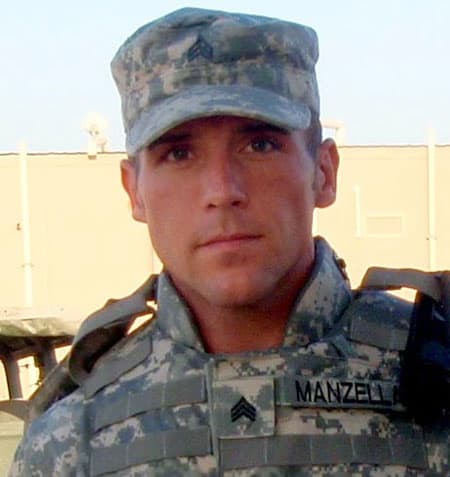 Army Sergeant Darren Manzella, whose story was the subject of a 60 Minutes piece back in December, has been discharged under the military's "Don't Ask, Don't Tell" policy, the Servicemember's Legal Defense Fund reports:
"The Iraq war veteran was the first openly gay active duty service member to speak with the media while serving inside a war zone....Manzella, 30, enlisted in the U.S. Army in 2002 and was twice deployed to the Middle East in support of Operation Iraqi Freedom. While under fire on the streets of Baghdad, he provided medical care to his fellow soldiers, Iraqi National Guardsmen and civilians. He was awarded the Combat Medical Badge, and also received several other awards recognizing his courage and service."
Watch the 60 Minutes segment, AFTER THE JUMP...
Related
60 Minutes Army Sergeant Manzella to Speak in D.C. [tr]
CWA Spokesman to Gay Troops Supporters: "Put a Cork in It" [tr]
Army Sergeant Darren Manzella Speaks Out After Interview [tr]
Duncan Hunter Defends Gay Ban: U.S. Needs "Hardened Warriors" [tr]
60 Minutes to Cover "Don't Ask, Don't Tell" Wartime Policy [tr]