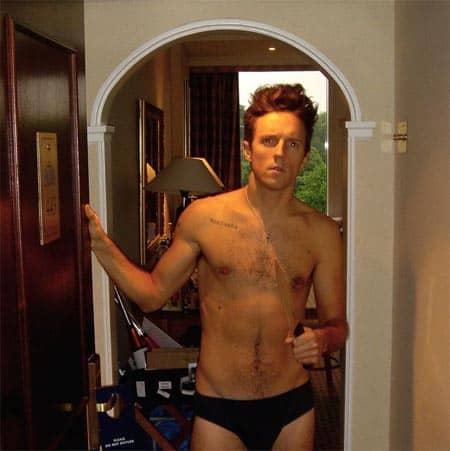 Singer/songwriter Jason Mraz writes on his MySpace blog:
"Time zone hopping and the hyper robotic routine of touring require energy levels to be consistent and my schedule isn't one that affords me any sick days. So I travel with a chopping knife and a cutting board. Rather than rely on room service and overpriced restaurant versions of vegetarian cuisine, I shop at local grocers and eat my own delicious homemade meals. The knife, a classic single layer stainless steel, in addition to raising concerns with airport security, is also good for shocking housekeeping staff. My DO NOT DISTURB sign is in constant use during any hotel stay, yet all maids seem to have this incredible urge to assist and clean. Thus, opening the door in bikini briefs gripping a 10-inch blade makes my point. I can make my own bed."
Mraz recently told NewNowNext why he surrounds himself with gay people: "To me it's not an issue of gay or straight; it's just a coincidence that the people I hang out with happened to be … gay folk. And I, as a writer, have always written from a feminine side. I take yoga, and I practice my spirituality, to balance my heaven and earth, to balance my masculine and my feminine, you know? And I think what I find hanging out in the gay community, there's more of a balance in the masculine and feminine qualities in the lifestyle than in a typical straight relationship or just in a straight person."
Check out Jason Mraz' video for "I'm Yours" AFTER THE JUMP...
(via hunk du jour)