George Michael, who just began his multi-city U.S. tour at the San Diego sports arena, talked to AP via USA Today about same-sex marriage: "It's way overdue. It's something that happened ... almost without a whisper in England, but it was basically because we weren't that concerned about the word 'marriage.' ...because this is a much more religious society, there are a huge number of people who want (their) unions to be part of something that they can place in their religion, so (marriage is) much more important here. I think that's why it's so long in arriving here, but I think it's fantastic, obviously."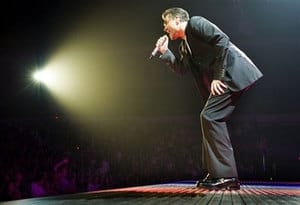 Michael also reportedly made the crowd at his first show go nuts when he referenced the weddings, saying: "I was watching TV yesterday and saw two women get married." He then sang the song "Amazing" and dedicated it to his longtime partner Kenny Goss.
Michael also talked about why it's been so long since he's toured here and why these concerts are likely to be his last: "The '90s were a bit of a disaster for me in so many ways. On a personal level, I don't think I could have toured. Also, I had some physical problems with my back that are now sorted and I just wasn't in the right state of mind. I have got other interests than just making music. I would like to follow those interests through. You never know, in five years I might be back here begging you all to forgive me. But I really think I can do much more constructive work as an artist if I step out of this again."
AFTER THE JUMP, Michael tells CNN that a wedding for he and Goss is currently "not in the cards..."