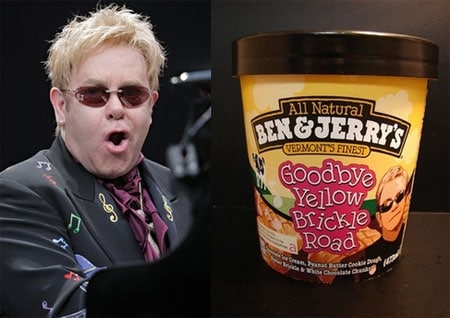 Ben & Jerry's wanted to salute Elton John for finally playing the state of Vermont (he's apparently played in all 49 other states) so they have created an ice cream flavor based off one of his greatest classics:
"The limited-batch ice cream, made from 'an outrageous symphony of decadent chocolate ice cream, peanut butter cookie dough, butter brickle and white chocolate chunks,' is a take-off on his 1970s album and song 'Goodbye Yellow Brick Road.' It will be available from July 18 to July 25 in the company's Vermont scoop shops, with proceeds going to the Elton John AIDS Foundation, officials said Tuesday."
He'll play Vermont on July 21. His Top of the Pops "Goodbye Yellow Brick Road" performance from 1973, AFTER THE JUMP...