Estelle Getty, source of many a laugh over the years as Sophia Petrillo on The Golden Girls died early this morning at the age of 84 at her home in the Hollywood Hills: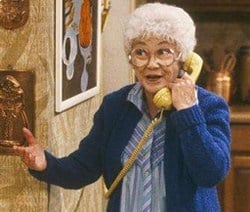 "Getty, who suffered from advanced dementia, died around 5:30 a.m. Tuesday at her Hollywood Boulevard home, said her son, Carl Gettleman of Santa Monica. Getty won an Emmy Award in 1988 for her portrayal of the feisty octogenarian. For her role as Sophia, Getty also notched a Golden Globe Award in 1986. She also received an American Comedy Award...She was a vocal supporter of gay rights and active in fundraising for AIDS research. She retired in 2000 after revealing she was suffering from Parkinson's disease. Two years later, she announced she was suffering from Alzheimer's disease."
Bea Arthur told Us magazine: "Our mother-daughter relationship was one of the greatest comic duos ever, and I will miss her."
Betty White also remembered her co-star: "The only comfort at this moment is that although Estelle has moved on, Sophia will always be with us."
Said Rue McClanahan: "Estelle always wanted to be an actress, and she achieved that goal beyond her dreams. "Don't feel sad about her passing. She will always be with us in her crowning achievement, Sophia."
See a few of those Sophia moments, AFTER THE JUMP...