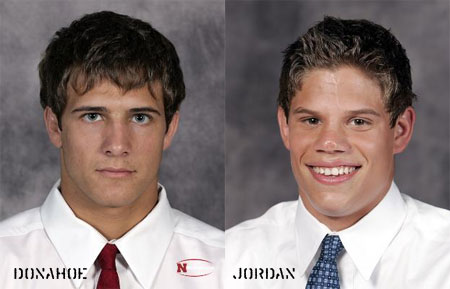 A University of Nebraska-Lincoln gossip blog exposed one of the school's national champion wrestlers, Paul Donahoe, and his teammate, Kenny Jordan, as part-time gay porn models, after anonymous tips were sent to the site indicated that the athletes had posed in solo photoshoots for the fratmen.tv adult gay male site.
According to the Scarlet Project, "Donahoe, 22, is a senior from Davison, Michigan and has been a stand-out on the Husker wrestling team. Donahoe was arrested in April, 2008 after becoming "argumentative" and refused to break up a party being held at his residence on Claremont Street in Lincoln. Lincoln Police took Donahoe into custody and charged him with maintaining a disorderly house. His blood alcohol level tested at .122. The legal limit to drive in Nebraska is .08. Kenny Jordan is a junior from Frankfurt, Illinois. Jordan is a two-time state wrestling champion in the state of Illinois and also a national junior college 133-pound wrestling champion."
UNL wrestling coach Mark Manning released the following statement: "We are aware of the matter and it is being reviewed internally. We will have no further comment until all of the facts of the situation are known." He told the Star Journal: "We're investigating the situation now, and until we find out further information we're not going to make a statement into regards to Paul and Kenny being in our program."
The athletes in (censored) action, AFTER THE JUMP (probably NSFW)...
[[PHOTOS REMOVED AT THE REQUEST OF FRATMEN.TV]]
Fleshbot has some more revealing photos (absolutely NSFW).
And more from Queerclick (NSFW).
And here's Donahoe defeating Sam Hazewinkel at the NCAA Finals in 2007.