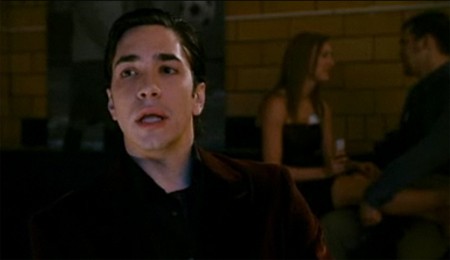 The bit of this red band trailer for Kevin Smith's Zack and Miri Make a Porno you'll probably find the most amusing is the first minute, in which Justin Long (Brandon) plants the idea to make a porn movie in Seth Rogen's (Zack) head.
This report from Comic-Con discusses Long and Brandon Routh, who plays Long's boyfriend in the film: "As the four characters come together we get a terrific blend of awkward humor as Miri realizes the guy she's hitting on is gay, and crude humor as Zack pushes Brandon to talk about his movies (including the gem, 'You Better Shut Your Mouth or I'm Going To Fuck It')...Justin Long talked about the clip shown and the kiss he shared with Brandon Routh, who plays his boyfriend (and the guy Miri is flirting with). Apparently Long was ill with a fever of 102 the whole time he was on set, and his kiss made Routh, who is typically the embodiment of health, incredibly sick. Long came up with the title, 'You Better Shut Your Mouth or I'm Going To Fuck It' as an ad lib. It became a running gag for the evening."
The movie premieres on October 31.
Watch the trailer, AFTER THE JUMP (NSFW)...