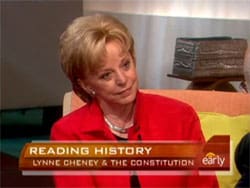 Lynne Cheney offers CBS' Harry Smith a circumspect answer to his question, "Marriage is legal for gays in California now. Would you wish that for your daughter?"
Says Cheney: "Well, I would wish my daughter to have happiness and the freedom to make her own choices. The Vice President said in the debate with Joe Lieberman, ever so long ago in 2000, that freedom in this country ought to mean freedom for everyone."
Well, at least she didn't bite his head off.
Watch the clip AFTER THE JUMP (excuse me while I go curl up with a copy of Sisters)