The Supreme Court of Connecticut today ruled that the state's same-sex civil union laws are discriminatory and that gay and lesbian couples now have the right to marry in that state: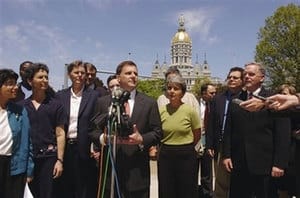 "Citing the equal protection clause of the state constitution, the justices ruled that civil unions were discriminatory. Eight same-sex couples had brought the case, Kerrigan v. the state Commissioner of Public Health, after they were denied marriage licenses in 2004 by the Madison town clerk, who was following instructions issued by the state attorney general's office. The state, arguing that civil unions already provide all the rights and protections of marriage, prevailed in a Superior Court ruling in July 2006. The couples appealed the ruling to the Supreme Court, which heard three hours of arguments on the case in May 2007."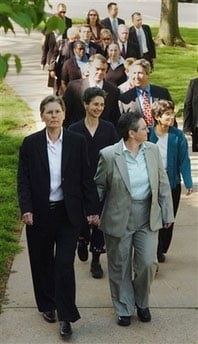 Here's some background on the arguments from May 2007.
From the opinion (PDF):
"The issue presented by this case is whether the state statutory prohibition against same sex marriage violates the constitution of Connecticut. The plaintiffs, eight same sex couples, commenced this action, claiming that the state statutory prohibition against same sex marriage violates their rights to substantive due process and equal protection under the state constitution. The trial court rendered summary judgment in favor of the defendant state and local officials upon determining that, because this state's statutes afford same sex couples the right to enter into a civil union, which affords them the same legal rights as marriage, the plaintiffs had not established a constitutionally cognizable harm. We conclude that, in light of the history of pernicious discrimination faced by gay men and lesbians, and because the institution of marriage carries with it a status and significance that the newly created classification of civil unions does not embody, the segregation of heterosexual and homosexual couples into separate institutions constitutes a cognizable harm..."
More of the opinion, AFTER THE JUMP...
Opinion, continued
"…We also conclude that (1) our state scheme discriminates on the basis of sexual orientation, (2) for the same reasons that classifications predicated on gender are considered quasi-suspect for purposes of the equal protection provisions of the United States constitution, sexual orientation constitutes a quasi-suspect classification for purposes of the equal protection provisions of the state constitution, and, therefore, our statutes discriminating against gay persons are subject to heightened or intermediate judicial scrutiny, and (3) the state has failed to provide sufficient justification for excluding same sex couples from the institution of marriage. In light of our determination that the state's disparate treatment of same sex couples is constitutionally deficient under an intermediate level of scrutiny, we do not reach the plaintiffs' claims implicating a stricter standard of review, namely, that sexual orientation is a suspect classification, and that the state's bar against same sex marriage infringes on a fundamental right in violation of due process and discriminates on the basis of sex in violation of equal protection. In accordance with our conclusion that the statutory scheme impermissibly discriminates against gay persons on account of their sexual orientation, we reverse the trial court's judgment and remand the case with direction to grant the plaintiffs' motion for summary judgment."