An assortment of white supremacist literature was discovered in the bedroom of Brandon McInerney, the 14-year-old student who gunned down his classmate Lawrence King in February, a court filing by Senior Deputy Dist. Atty. Maeve Fox revealed this week: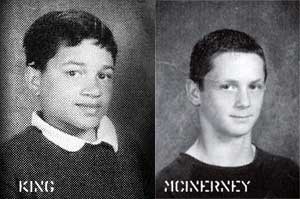 "The 'trove' of white supremacist literature and drawings depict a "racist skinhead philosophy of the variety espoused by Tom Metzger, David Lane and others," Fox wrote. McInerney is being tried as an adult on a murder count, plus a hate crime allegation. Prosecutors previously declined to specify their justification for the hate crime enhancement. But in the court documents, Fox said the materials found in the teenager's bedroom were a primary consideration in adding the hate crime charge. McInerney's attorney, Deputy Public Defender William Quest, called the prosecution's disclosure a "stunt" intended to inflame public sentiment against his client. He said McInerney had the items because he was writing a school paper on Adolf Hitler. He also shared an interest in the German military with other family members, Quest said."
A hearing in the case has been delayed by changes in McInerney's defense team. McInerney's May arraignment, AFTER THE JUMP...
You may have missed...
Family of Lawrence King Files Claims Against School, Claims Dress Code Lead to Killing [tr]
Brandon McInerney Pleads 'Not Guilty' to Murder and Hate Crime [tr]