Just days after ambushing the catwalk at designer Agatha Ruiz de la Prada's show in Milan (below), Sacha Baron Cohen has infiltrated another show, sitting in the second row of Stella McCartney's show this morning in Paris, Vogue reports: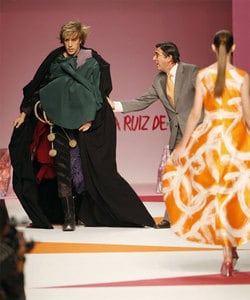 "With his red thong clearly visible above his jeans, the comedian - who was virtually unrecognisable in a flamboyant leather gilet, with his slicked-down hair dyed blonde and brown - sucked Tampax, clapped along to the music and generally disgruntled the front row by continually pushing aside those sitting in front of him for a better look at the models. While Baron Cohen did his best to steal the limelight, however, McCartney's girls (in delicious roomy knits with a touch of the Eighties about them) held their own - and won a lone standing ovation from their most eccentric, and possibly biggest, new fan."
Cohen's fake Austrian news reporter Bruno has already made news this year at a cage fighting event in Arkansas, in an interview with a former Israeli spy, in an attempt to talk to Arnold Schwarzenegger, go-go dancing at the Wichita airport, and duping Ben Affleck.
Watch cohen's arrest after the Agatha Ruiz de la Prada, AFTER THE JUMP...
Just recently
Sacha Baron Cohen's Gay Bruno Strikes Again, on the Milan Catwalk! [tr]