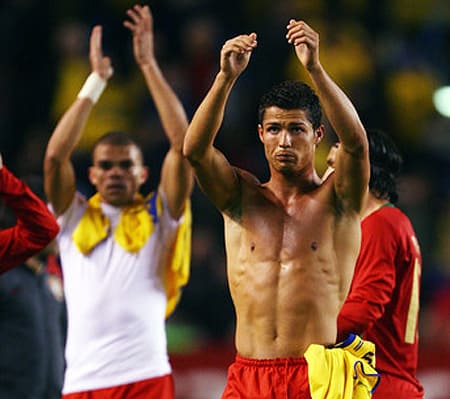 Metrosexual Portuguese footballer Cristiano Ronaldo was the victim of a grooming product attack by his Manchester United teammates:
"Team-mates filled his training room locker with cans of deodorant and aftershave when the Manchester United ace was pictured by the Mirror sweating through a jacket on a night out. Ex-United striker Brian McClair, now its youth academy director revealed: 'As he is never one for getting to training early, he found this picture copied all over the dressing-room. When he opened his locker, all the deodorants and perfumes fell out. He was not amused!' The footie ace, 23, who admits he gets ribbed for the time he spends by the dressing-room mirror and getting ready after training, admitted: 'I like to take care of my style.'"
The offending pit stain photo, AFTER THE JUMP...