This is one of the most bizarre stories I've run across all week. It happened in July in Chandler, Arizona, near Phoenix but for some reason it's getting renewed attention in Arizona news media: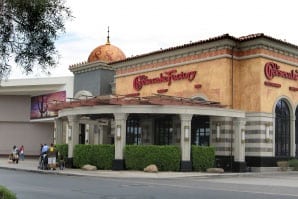 "Bryce Fitzpatrick was working at the Cheesecake Factory at Chandler Fashion Center when he was promoted from server to food expeditor, a step toward management. One day, while he was inside the produce walk-in to hunt down watercress, the door suddenly swung open. 'About 10-plus cooks and dishwashers shut the lights out,' Fitzpatrick recalls. 'A guy grabbed me from behind and made me put my butt on top of his genitals.' One cook grabbed Fitzpatrick's right leg and held it up in the air. Another held his left leg. Two other men grabbed Fitzpatrick's arms. 'A cook would stand in the middle and rub his genitals into my genitals,' Fitzpatrick said. During his tenure at the restaurant, he suffered the attacks more than 20 times, he said. In interviews with The Arizona Republic, two other former employees of the restaurant chain described being similarly grabbed and held down by co-workers while men simulated sex with them."
Lawyers are now involved and a sexual harassment lawsuit was filed in July. All of the victims and all of the cooks say they are heterosexual.
More:
"The fear was not exaggerated, several of the four former workers say. Wilson, 33, who worked his way up from a server at Cheesecake Factory to become the front-of-the-house manager, recalls being asked by one of the cooks to go into the walk-in cooler for some herbs. 'All of a sudden the light turned out and it startled me,' Wilson said. 'I turned around, and altogether there were seven or eight men.' Wilson said several men held him down, and others began pressing and rubbing their genitals against his. They were screaming obscenities in Spanish that Wilson said he couldn't understand, and they were whispering things in his ears. 'They would take turns dry raping me. I was on my back being held down,' he said. 'Once they were all finished taking turns on me, they threw a bunch of lettuce on me, and a bunch of herbs.' Wilson said he was scared, intimidated, humiliated and traumatized. He felt violated. He quit his job in July 2007."
A news report from July, AFTER THE JUMP...
(via slog)