Elizabeth Benjamin of the New York Daily News reports that New York Governor David Paterson, who has several times expressed his gung-ho enthusiasm for marriage equality in the state, is adopting a more "hands-off" approach now that the New York Senate Democrats' "gang of three" have done their deal-brokering: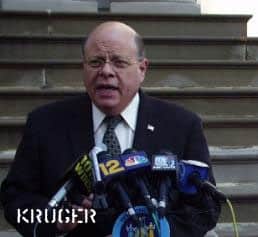 "A source close to the gang said the plan is to have the same-sex marriage bill introduced, determined to have fiscal implications (although I'm not exactly certain what those might be) and referred to the Finance Committee, which, assuming the agreement between the gang and Smith sticks, will be headed by Sen. Carl Kruger, who could stop the measure in its tracks. And that might be why Sen. Ruben Diaz Sr. says he feels "comfortable that everything's going to be OK" when asked whether his demands that a gay marriage bill not be brought to the floor for a vote were met. Of course, bringing to the bill up for a vote when there aren't enough votes to pass it doesn't make sense for Smith anyway. But it is kind of ironic that in this new era of openness and reform, the first thing the Senate Democrats are going to do is bottle up a bill in committee. Asked last night at state Comptroller Tom DiNapoli's fundraiser at the Roosevelt Hotel whether he wants to see the marriage bill brought to the floor of a Senate, Gov. David Paterson adopted a hands-off approach, saying: 'I supported same-sex marriage legislation when I was running for lieutenant governor with Governor Spitzer, and we had advocated for its passage and we are ready to have it passed at any time. But now my role is not as a legislator but is to sign the bill when and if the Legislature ever passes it, which I will do.'"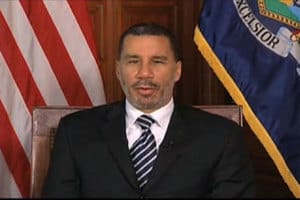 You may remember a much different tone in the speech Paterson gave at the National Gay and Lesbian Task Force's 2008 New York Leadership Awards, which you can watch, AFTER THE JUMP...
Said Paterson: "Marriage equality in NY may not come just this moment but it is no longer an issue mostly for conviction, it is an issue for courage. People more and more understand that when people love each other they should express it in whatever way they deem necessary and possible. They should have all the rights that the rest of us have. And so, we willl push on and bring full marriage equality to New York State. And when we have done that, we're going to do more. We're going to protect young people from bullies. We're going to protect against the discrimination of people in the transgender community, and we're going to fight for decent and affordable healthcare for all citizens in this state. If you will join with me, and if we work hard enough, we can change the face of New York, which will be the catalyst to changing national policy."
Watch Paterson's NGLTF speech, AFTER THE JUMP...