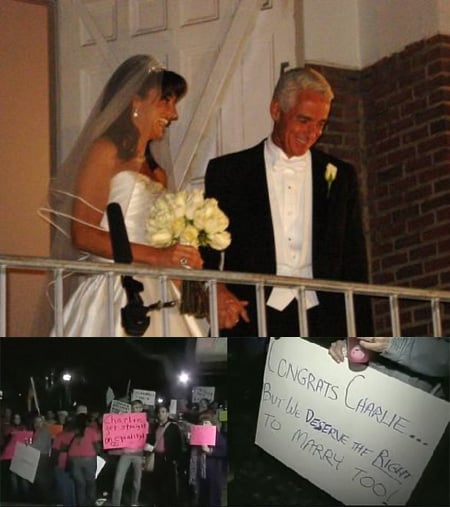 Florida Governor Charlie Crist married Carole Rome last night in St. Petersburg and protestors from Impact Florida stood across the street as guests, which included TV personality Geraldo Rivera, filed into the wedding. By all reports, the protest was peaceful:
AFP: "Around 250 demonstrators gathered outside downtown St. Petersburg's red-brick First United Methodist Church on Friday where Crist, 52, and Carole Rome, 39, were married. It was the second marriage for both. Some held up signs of protest while others wore pink T-shirts with black decals on the front and back that read 'Congratulations Governor Crist. When can I get married?' The demonstration was organized by a group called Impact Florida, which opposes Amendment 2, a ban on same-sex marriage that was added to the state's constitution in the November election."
I've posted three separate videos by 10Connects in Tampa, AFTER THE JUMP...
Previously
Florida Gov. Crist: Gays Have the Right to Protest My Wedding [tr]
Gay Group to Crash Florida Governor Charlie Crist's Wedding [tr]
Charlie Crist to Have Fabulous Gay Marriage [tr]
Florida Governor Charlie Crist Says He Supports Gay Marriage Ban [tr]
Fla GOP Gov. Candidate Charlie Crist: I Never Had Sex with a Man [tr]
Opponent Outs Florida Gubernatorial Candidate Charlie Crist [tr]