New Mexico Governor Bill Richardson has declined Obama's nomination as Commerce Secretary because of a grand jury investigation in his home state: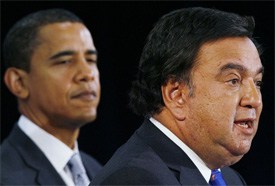 "The grand jury has been investigating 'pay-to-play' allegations concerning a New Mexico state contract awarded to a California firm that has contributed to three political committees formed by Richardson, The Associated Press reported last month. A source close to Richardson told Politico, 'There are too many unanswered questions and while he thinks the results of the grand jury will turn out in his favor, he doesn't want to distract attention from the administration.'"
ABC's Jake Tapper reports that the Obama team felt that Richardson was not forthcoming about the investigation prior to his nomination, though Richardson's camp disagrees:
"President-elect Obama did not ask Richardson to withdraw his name from consideration, sources from both camps say, but the fact that the confirmation seemed untenable in the short term was apparent to everyone involved."
National Latino leaders are pressing for another Hispanic nominee: "Within hours of Richardson pulling his name for secretary of commerce, the head of the League of United Latin American Citizens had compiled a list of 10 Latino elected officials and corporate CEOs that would be offered to the Obama transition team. The list included Rep. Xavier Beccera (D-Calif.), who turned down the U.S. trade representative post, Albuquerque Mayor Marty Chavez and Miami Mayor Manny Diaz."
An MSNBC report on Richardson's withdrawal, AFTER THE JUMP...