Just after midnight, GLAAD announced more than 185 nominees for the 10th annual GLAAD awards which include Special Honorees Tyra Banks for the Excellence in Media Award and Suze Orman for the Vito Russo Award (openly gay member of the media).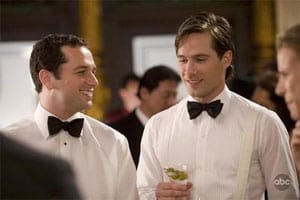 ABC received six nominations, the most of any other broadcast network, forOutstanding Drama Series, Outstanding Comedy Series, Outstanding Individual Episode, Outstanding Daily Drama, Outstanding TV Journalism Segment. Logo and here! networks swept the five nominations in the Outstanding Television Movie category. Newsweek received more nominations than any other newspaper or magazine, for Outstanding Magazine Article and one for Outstanding Magazine Overall Coverage, as well as two for Outstanding Digital Journalism Article and two for Outstanding Digital Journalism – Multimedia.
Watch a video of some of the nominations and read the entire list, AFTER THE JUMP...
20th Annual GLAAD Media Awards Nominees
OUTSTANDING FILM – WIDE RELEASE
Brideshead Revisited (Miramax Films)
Milk (Focus Features)
Nick and Norah's Infinite Playlist (Columbia Pictures)
RocknRolla (Warner Bros. Pictures)
Vicky Cristina Barcelona (The Weinstein Company)
OUTSTANDING FILM – LIMITED RELEASE
The Edge of Heaven (Strand Releasing)
Noah's Arc: Jumping the Broom (New Open Door Productions)
Save Me (First Run Features)
Shelter (Regent Releasing)
XXY (Film Movement)
OUTSTANDING DRAMA SERIES
Brothers & Sisters (ABC)
The L Word (Showtime)
South of Nowhere (The N)
Torchwood (BBC America)
True Blood (HBO)
OUTSTANDING COMEDY SERIES
Desperate Housewives (ABC)
Greek (ABC Family)
Reaper (The CW)
Skins (BBC America)
Ugly Betty (ABC)
OUTSTANDING INDIVIDUAL EPISODE (in a series without a regular LGBT character)
"Ghostfacers" Supernatural (The CW)
"My Maharishi is Bigger than Your Maharishi" Life on Mars (ABC)
"Slam" Ghost Whisperer (CBS)
"Tandem Repeats" ER (NBC)
"Unidentified Funk" The New Adventures of Old Christine (CBS)
OUTSTANDING TELEVISION MOVIE
Affinity (Logo)
East Side Story (Logo)
Ice Blues: A Donald Strachey Mystery (here!)
Oh Happy Day (Logo)
On the Other Hand, Death: A Donald Strachey Mystery (here!)
OUTSTANDING DOCUMENTARY
Chris & Don: A Love Story (Zeitgeist Films)
Freeheld (Cinemax)
A Jihad for Love (First Run Features)
Saving Marriage (Regent Releasing)
Sex Change Hospital (WE tv)
OUTSTANDING REALITY PROGRAM
America's Next Top Model (The CW)
I Want to Work for Diddy (VH1)
Kathy Griffin: My Life on the D-List (Bravo)
Shirts & Skins (Logo)
TransAmerican Love Story (Logo)
OUTSTANDING DAILY DRAMA
All My Children (ABC)
As the World Turns (CBS)
OUTSTANDING TALK SHOW EPISODE
"Don't Ruin My Gay Wedding" The Tyra Banks Show (syndicated)
"Ellen & Portia's Wedding Day" The Ellen DeGeneres Show (syndicated)
"Gays in the Ghetto" The Tyra Banks Show (syndicated)
"The Pregnant Man" The Oprah Winfrey Show (syndicated)
"Transgender Triumphs" The Tyra Banks Show (syndicated)
OUTSTANDING TV JOURNALISM – NEWSMAGAZINE
"Becoming" (multi-part series) Channel 3 News (WCAX-TV3 [Burlington, Vt.])
Born in the Wrong Body: All in the Family (MSNBC)
"Funding the Marriage War" In the Life (PBS)
"George Takei and Brad Altman" (multi-part series) The Early Show (CBS)
"The Whispers" Outside the Lines (ESPN)
OUTSTANDING TV JOURNALISM SEGMENT
"Bishop in the Eye of the Storm" Today (NBC)
"Gay in Cuba" The Situation Room (CNN)
"Special Comment: Prop 8" Countdown with Keith Olbermann (MSNBC)
"Rick Warren: Change to Believe In?" The Rachel Maddow Show (MSNBC)
"Taking to the Streets" Good Morning America Weekend (ABC)
OUTSTANDING NEWSPAPER ARTICLE
"Gay Marriage Ruling Ended Long Journey Of Soul" by Alaine Griffin
(The Hartford Courant)
"Morehouse College Faces its Own Bias – Against Gays" by Richard Fausset
(Los Angeles Times)
"A New Wave of Gay Seminarians Prepares to Take the Pulpit" by Bradley Campbell
(City Pages [Minneapolis, Minn.])
"Owning His Gay Identity – at 15 Years Old" by Theresa Vargas (The Washington Post)
"Special Report: In Transition" by Karen Lovett and Ashley Smith (The Telegraph [Nashua, N.H.])
OUTSTANDING NEWSPAPER COLUMNIST
Alfred Doblin (The Record [Bergen, N.J.])
Michael Mayo (South Florida Sun-Sentinel)
Leonard Pitts, Jr. (The Miami Herald)
Deb Price (The Detroit News)
Rebecca Walsh (Salt Lake Tribune)
OUTSTANDING NEWSPAPER OVERALL COVERAGE
The Denver Post
The Des Moines Register
Los Angeles Times
The New York Times
The Washington Post
OUTSTANDING MAGAZINE ARTICLE
"Becoming a Black Man" by Daisy Hernández (ColorLines)
"Death on Terminal Island" by Ben Ehrenreich (Los Angeles)
"Let God Love Gene Robinson" by Andrew Corsello (GQ)
"Our Mutual Joy" by Lisa Miller (Newsweek)
"Second Nature" by Maximillian Potter (5280)
OUTSTANDING MAGAZINE OVERALL COVERAGE
The Advocate
The Chronicle of Higher Education
Entertainment Weekly
Newsweek
People
OUTSTANDING DIGITAL JOURNALISM ARTICLE
"Don't Ask, Don't Tell, Do Kill" by Lennox Samuels (Newsweek.com)
"Gay Athletes are Making Their Mark" by LZ Granderson (ESPN.com)
"Gay in Wasilla" by Julie Bolcer (Advocate.com)
"Gays in Primetime" by James Hillis (AfterElton.com)
"Invisible and Overlooked" by Jessica Bennett (Newsweek.com)
OUTSTANDING DIGITAL JOURNALISM – MULTIMEDIA
"Excluded Gay Bishop Reacts" by Mary Jordan (WashingtonPost.com)
"Gay Seniors" (multi-part series) by Jessica Bennet, Jennifer Molina and Carl Sullivan (Newsweek.com)
"Is Gay the New Black?" by Jessica Bennet and Jennifer Molina (Newsweek.com)
OUTSTANDING MUSIC ARTIST
Jay Brannan, goddamned
Hercules & Love Affair, Hercules & Love Affair
k.d. lang, Watershed
The Magnetic Fields, Distortion
Sam Sparro, Sam Sparro
OUTSTANDING COMIC BOOK
The Alcoholic by Jonathan Ames (Vertigo/DC Comics)
Buffy the Vampire Slayer by Drew Goddard, Jeph Loeb and Joss Whedon (Dark Horse Comics)
Final Crisis: Revelations by Greg Rucka (DC Comics)
Secret Six by Gail Simone (DC Comics)
Young Avengers Presents by Ed Brubaker, Brian Reed, Roberto Aguirre-Sacasa, Paul Cornell, Kevin Grevioux and Matt Fraction (Marvel Comics)
OUTSTANDING ADVERTISING – ELECTRONIC
"I Don't Judge" IKEA
"Logo Unbuttoned" Levi's
"Market" Chemistry.com
"We All Walk In Different Shoes – Nina Poon" Kenneth Cole
"Rugby Drinking Party" Jawbone
OUTSTANDING ADVERTISING – PRINT
"First Comes Love. Then Comes Marriage." Macy's
"Home for the Holidays" Swanson
"Rings" Paris Las Vegas
"We All Walk In Different Shoes – Nina Poon & Robert Jason" Kenneth Cole
"Will You Marry Me?" Absolut Vodka
OUTSTANDING LOS ANGELES THEATER
As Much As You Can by Paul Oakley Stovall
Dog Sees God: Confessions of a Teenage Blockhead by Bert V. Royal
He Asked for It by Erik Patterson
The Little Dog Laughed by Douglas Carter Beane
Secrets of the Trade by Jonathan Tolins
OUTSTANDING NEW YORK THEATER: BROADWAY & OFF–BROADWAY
Billy Elliot: The Musical book and lyrics by Lee Hall, music by Elton John
Body Awareness by Annie Baker
Prayer for My Enemy by Craig Lucas
Road Show book by John Weidman, music and lyrics by Stephen Sondheim
Wig Out! by Tarell Alvin McCraney
OUTSTANDING NEW YORK THEATER: OFF–OFF BROADWAY
Arias with a Twist by Joey Arias and Basil Twist
The Be(a)st of Taylor Mac by Taylor Mac
Dina Martina: Off the Charts! by Grady West
Lustre, a Midwinter Trans-Fest by Justin Bond
Play it Cool book by Martin Casella and Larry Dean Harris, music by Phillip Swann, lyrics by Mark Winkler
SPECIAL RECOGNITION
The Laramie Project, 10 Years Later – The Lasting Legacy of Matthew Shepard (Sirius XM Radio)