Hillary Clinton pretty much aced her confirmation hearings for Secretary of State yesterday: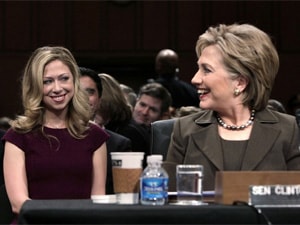 "Her confirmation hearing was a tour de force, one that demonstrated not just her breadth of understanding of the policy issues, but the meticulous preparation that she has brought to most every political task in her career -- and, likely soon, Foggy Bottom. Pressed by her soon-to-be-former Senate colleagues, Clinton fielded questions on topics ranging from the impact of the Law of the Sea treaty on Alaska, to Russia's purchase of a Serbian gas utility, to the piracy crisis off the coasts of Somalia. 'I've never seen anybody know so much about so much,' Chris Matthews, a sometimes-critical voice on the Clintons, would gush on Hardball later that day. If Clinton's performance was, as Matthews claimed, virtuoso, it was owed to hard, behind-the-scenes preparation. According to a source close to the Obama transition, in the process of preparing for the hearing, the former first lady met or at least spoke to every member of the Foreign Relations committee. "
NYT: "The only testy notes in a day of cordial exchanges came when Republican senators warned that Mrs. Clinton could face conflicts of interest because of foreign donations to the charitable foundation run by her husband, former President Bill Clinton. Mrs. Clinton stood her ground, saying that restrictions hammered out between Mr. Clinton and the Obama transition team were "probably as close as we can get" without hampering the foundation's work."
There was one slightly awkward moment, however, when John Kerry used a word you probably shouldn't bring up around the Clintons. You can watch it, AFTER THE JUMP...