The New York Senate Democrats last night came to an agreement last night placing Malcolm Smith as majority leader and giving the party control of the chamber for the first time in 43 years. Today, that agreement was finalized with a vote.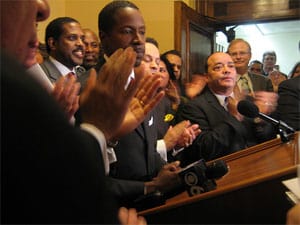 The deal and vote comes after many weeks of wrangling between Smith and the so-called "gang of three" (Rubén Díaz Sr. and Pedro Espada Jr., both of the Bronx, and Carl Kruger of Brooklyn). Díaz, Sr, has recently expressed dismay over gays and lesbians calling his office to object to his position on same-sex marriage.
The NYT reports: "Mr. Díaz, a Pentecostal minister, had sought an assurance that there would be no vote on same-sex marriage this year. He was arguing to the end about what discussions had taken place on the issue. Mr. Smith said no policy issues had been resolved as part of a deal, while Mr. Díaz said that the issue had been discussed and that he was comfortable with the outcome, though he would not be more specific. Mr. Diaz said he had been persuaded by his son, Assemblyman Rubén Díaz Jr., and Assemblyman Carl E. Heastie, the new head of the Bronx Democratic Party, to support Mr. Smith."
Smith, however, said that the topic of same-sex marriage had not come up: "Smith insisted the topic of gay marriage - Diaz's top issue - had not come up during the closed-door conference. He said the Democrats dealt with three issues: Leadership, committee assignments and rules reform."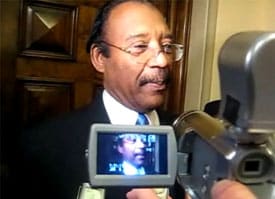 Senator Ruben Diaz, Sr., who opposes same-sex marriage and who "pledged not to support anyone for majority leader who would not promise him - in writing - never to bring the bill that would legalize same-sex marriages to the floor" was asked by reporters, dodged questions about whether he thought same-sex marriage would come to the floor for a vote this year, saying only that he was "satisfied with whatever happens."
Watch Elizabeth Benjamin's video of Diaz answering questions and read the continued post, AFTER THE JUMP...
Democrats Take Control Of State Senate, With Smith At The Helm [ny1]
Democrats Reach Pact to Lead the Senate [nyt]
Mr. Majority Leader [nydn]
Diaz Sr. Loves His Son, Same-Sex Marriage Not So Much [nydn]
The Empire State Pride Agenda released a statement congratulating Smith:
"Today, for the first time ever, New York has a pro-LGBT Majority Leadership in the State Senate. We congratulate Senator Malcolm Smith, the new Senate Majority Leader, and look forward to working with him to pass legislation that will bring equality to LGBT New Yorkers and our families. LGBT New Yorkers and our allies should be proud today. We now not only have a Senate Majority Leader who supports our issues, but one that has stated a number of times that he will help us find the support needed to pass crucial bills like marriage equality, the Gender Expression Non-Discrimination Act and the Dignity for All Students Act. Our community now has more work to do. Today we know that we have supportive leadership, but we also know that we do not yet have the votes that we need to pass some of our most important bills. In the months to come, LGBT New Yorkers and our allies will be working in districts across the state to build the support that will allow us to bring these bills to the Senate floor for a vote as soon as possible."
Jeff Campagna, of the Facebook-based activist group The Power, released a statement as well:
"We can congratulate Malcolm Smith on his election as Senate Majority Leader after forty years of Republican control of that chamber. The people of New York can be proud that they came together and sent a clear message to our elected leaders that they will not tolerate the use of the LGBT civil rights as a political bargaining chip. The Democrats are to be commended for hearing that message. Malcolm Smith's election means that LGBT people have a chance to achieve marriage equality, where under the Republicans we had none. That said, if the last two months have taught us anything, it's that even within the Democratic Party, there are enemies of equality and others who have yet to join our cause. So this is just the beginning of our fight. We must continue to organize and speak out. But have no doubt, we will prevail."