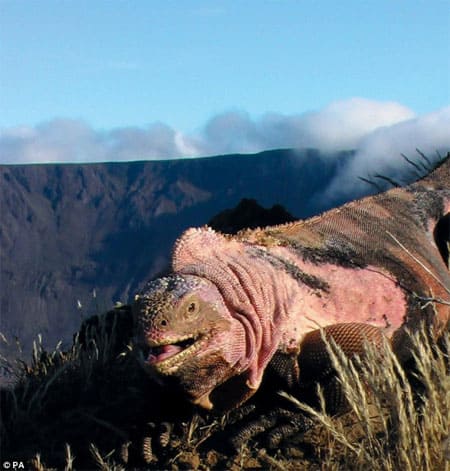 When Charles Darwin was completing his survey of the species of the Galapagos Islands in 1835 he missed this beauty!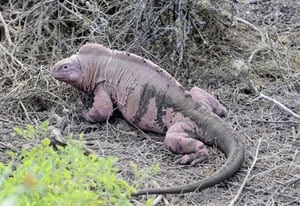 The pink iguana, which was just verified as a distinct species according to a paper in the Proceedings of the National Academy of Sciences, is found on Volcan Wolf, the northernmost volcano in the island chain. Darwin never made it there, and the pink iguanas were never actually officially reported until 1986. Their genetic difference has not been documented until now.
Wrote the scientists: "This form, which we recognize as a good species, is very important because it carries substantial evolutionary legacy. Thus far the rosada form is the only evidence of deep diversification along the Galapagos land iguana lineage."
Unfortunately, the scientists report, an invasion of feral goats is threatening them and other species on Volcan Wolf.
Perhaps, conservationists in the Galapagos could import some sheepdogs, which have proved extremely successful in an experiment intended to protect a threatened colony of fairy penguins on Warrnambool's Middle Island off the south coast of Australia. Treehugger reports that the colony has "dwindled dramatically due to attacks by foxes and wild dogs." However, "their numbers are rising again thanks to their new bodyguards - two Maremmas, an Italian breed of sheepdog that bonds with the flock or herd of animals it is protecting."
Watch video of two iguanas on Isabela Island in the Galapagos, where Volcan Wolf is located, AFTER THE JUMP...