Following newly-elected Portland Mayor Sam Adams' confession that he lied about his relationship with a legislative intern he was mentoring in 2005, Portland law enforcement officials have asked the state to investigate Adams.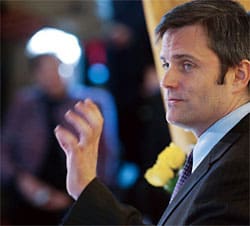 Via the AP:
"Local authorities have asked Oregon's attorney general to investigate Portland Mayor Sam Adams, who has admitted lying about a sexual liaison with a teenager. The request came from Portland Police Chief Rosie Sizer and Multnomah County District Attorney Michael Schrunk. Attorney General John Kroger and aides did not immediately respond to a call for comment about the scope of the investigation."
The Oregonian reports that "The Internet is ablaze with calls for Adams to step down. City Commissioner Randy Leonard said he was "disturbed" that Adams had persuaded Breedlove to lie, and Commissioner Nick Fish said he was disappointed. The Oregonian editorial board called for Adams to resign in today's newspaper."
More: "On Tuesday, county authorities said they would conduct a criminal investigation looking into the possibility that Adams had sex with a minor and whether Adams' lie about his sexual relationship with Breedlove while serving as a city commissioner rose to the level of official misconduct. However, Sizer said such an inquiry poses a conflict for Portland police because the mayor controls the bureau's budget. The mayor also holds the authority to appoint and fire the police chief. 'If there is an investigation, I don't think that it's appropriate that the Police Bureau does it,' Sizer said. 'There are capable investigative entities outside the Police Bureau.' Among the crimes that the investigation could encompass are felony second-degree sexual abuse and the misdemeanors of third-degree sexual abuse, contributing to the sexual delinquency of a minor and sexual misconduct. Even if the sexual contact is consensual, Oregon law says a person younger than 18 doesn't have the capacity to consent, and as a result, the contact is a crime."
I've posted portions of Adams' news conference, AFTER THE JUMP...
Background
Portland Oregon's Gay Mayor Sam Adams Admits Sexual Relationship With Teenage Former Staffer In 2005 [tr]
Portland TV On Adams Controversy [tr]
Portland Swears in Gay Mayor Sam Adams [tr]
Portland Elects Openly Gay Mayor Sam Adams [tr]
Gay Man Accused of Smearing Another in Portland Mayoral Race [tr]