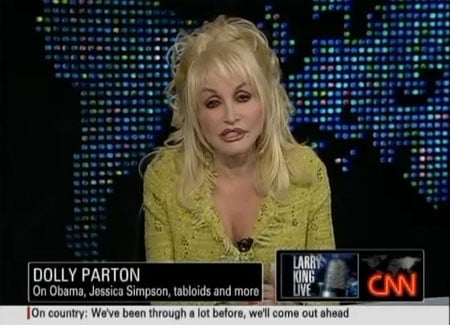 Dolly Parton sat down with Larry King on Saturday night and spoke to King on a variety topics, including how she handles rumors she is gay.
KING: You -- you're unusual in many respects. You're a great entertainer. And I mean, the Kennedy Center Honors don't happen to many. You also have a lot of gay fans. You've even dealt with gay rumors yourself. What is your appeal, do you think, to the gay community?
PARTON: Well, I think the gay people have always liked me because I have always been myself. I'm not intimidated by how people perceive me. I don't judge nor criticize people. I think that's another reason that they at least know that I'm sympathetic. I think all people have a right to be who they are. We're all God's children and God should be the one to judge, not other people. So I have a lot of gay friends, lesbian friends. I work with a lot of people. I am not gay. I have been accused of that. But I have been happily married for 42 years to the same man. And he's not the least bit threatened, you know, by the fact that I may be gay. And he knows I have a lot of friends. But I love everybody. It doesn't matter to me.
Watch it, AFTER THE JUMP...