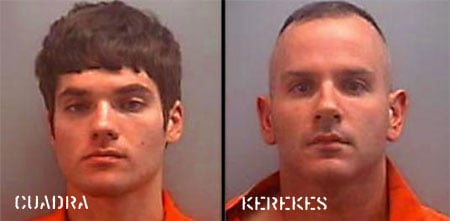 Porn actor Harlow Cuadra took the stand in his own defense yesterday as his trial for the 2007 murder of porn producer Bryan Kocis entered its final days. Cuadra and fellow actor Joseph Kerekes are accused of the murder of gay porn producer Bryan Kocis and setting fire to Kocis' home to cover it up.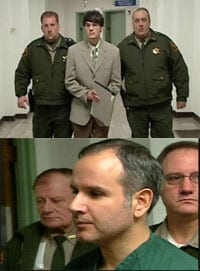 WNEP reports that Kerekes shocked the courtroom by saying he changed his mind at the last minute to testify in Cuadra's defense:
"Before Cuadra's testimony, Kerekes, who was in shackles, took the stand. He admitted he had agreed to testify on Cuadra's behalf but had a late change of heart. 'I've been thinking a lot about my parents. It would destroy them to say I did something I didn't do,' Kerekes told the court. After Kerekes left the courtroom, Cuadra told jurors his former lover was controlling, jealous and a sociopath. Cuadra said Kerekes was the murderer who burst into Kocis' home and, 'Takes out this knife and slashes him. Bryan immediately grabs his throat.' Cuadra became emotional and sobbed at times while on the stand. He told jurors he was so frightened by what Kerekes had done that he kept his mouth shut. At one point in the testimony, Cuadra turned to his mother sitting in the courtroom and said, 'I'm sorry Mama. I'm sorry.'"
Kerekes pleaded guilty in December to second-degree homicide and is serving a life sentence.
Closing arguments are scheduled for today. Cuadra may face the death penalty if convicted.
WNEP's report, AFTER THE JUMP...