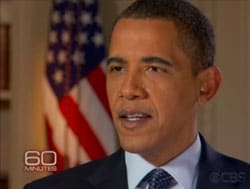 Obama appeared on 60 Minutes last night to discuss a variety of topics, among them the AIG bonuses.
Meanwhile, skepticism abounds on the bank plan. Economist Paul Krugman panned the Geithner bank plan: "Why am I so vehement about this? Because I'm afraid that this will be the administration's only shot — that if the first bank plan is an abject failure, it won't have the political capital for a second."  And Frank Rich wondered: Has a "Katrina moment" arrived?
Obama also took on Dick Cheney and his assertion that new policies on Guantanamo Bay and prisoner treatment were making America more vulnerable.
Said Obama: "I fundamentally disagree with Dick Cheney. Not surprisingly. You know, I think that-- Vice President Cheney has been-- at the head of a-- movement whose notion is somehow that we can't reconcile our core values, our Constitution, our belief that we don't torture, with our national security interests. I think he's drawing the l-- wrong lesson from history. The facts don't bear him out. I think he is-- that attitude, that philosophy has done incredible damage-- to our image and position in the world. I mean, the fact of the matter is after all these years how many convictions actually came out of Guantanamo? How many-- how many terrorists have actually been brought to justice under the philosophy that is being promoted by Vice President Cheney? It hasn't made us safer. What it has been is a great advertisement for anti-American sentiment. Which means that there is constant effective recruitment of-- Arab fighters and Muslim fighters against U.S. interests all around the world."
Watch the portion of the 60 Minutes interview on AIG, AFTER THE JUMP....
Click here to watch Part One and Part Two of the interview.