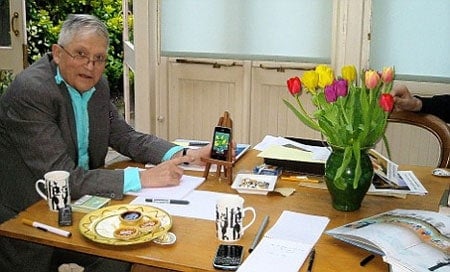 David Hockney has no fear of new technology: "Hockney has had the [iPhone] for only four months, but he has already turned it into a hi-tech canvas. It even fits neatly on a miniature easel in his London studio...'I lie in bed and send illustrated art lectures to friends and also my own iPhone paintings,' said Hockney. 'I like to draw flowers by hand on the iPhone and send them out to friends so they get fresh flowers. And my flowers last!'"
A close-up of the painting on the mini-easel, AFTER THE JUMP...
In related news, a major work by Hockney is on the auction block this week at Christie's: "Leading the selection is one of the most important works to come to the auction market by Hockney, Beverly Hills Housewife, (estimate: $7-10 million), 1966-1967."