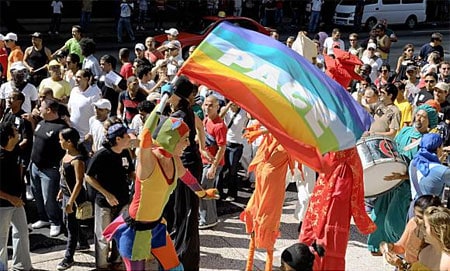 Mariela Castro, gay rights activist and daughter of President Raul Castro, led a gay rights street dance in Havana on Saturday:
"Participants formed a carnival-style conga line around two city blocks to the beat of drums, accompanied by costumed stilt-walkers. Events also included educational panels and presentations for books, magazines and CDs about gay rights and sexual diversity. 'We're calling on the Cuban people to participate ... so that the revolution can be deeper and include all the needs of the human being,' said Mariela Castro..."
Watch some brief video of the event, AFTER THE JUMP...