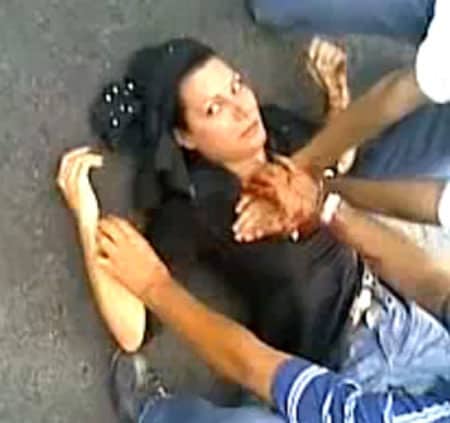 A 27-year-old woman named Neda who was killed indiscriminately by a Basij member over the weekend has become a martyr and a symbol for the opposition uprising in Iran. Footage of Neda's death posted to YouTube has been broadcast internationally. It is profoundly disturbing, but its existence and mode of distribution via the internet is perhaps the most potent example of the way new media has proven its power throughout this conflict.
Videos, AFTER THE JUMP...
Andrew Sullivan, who continues his unflagging coverage of the events in Tehran, received this email:
"At 19:05 June 20th Place: Karekar Ave., at the corner crossing Khosravi St. and Salehi st. A young woman who was standing aside with her father watching the protests was shot by a basij member hiding on the rooftop of a civilian house. He had clear shot at the girl and could not miss her. However, he aimed straight her heart.
I am a doctor, so I rushed to try to save her. But the impact of the gunshot was so fierce that the bullet had blasted inside the victim's chest, and she died in less than 2 minutes. The protests were going on about 1 kilometers away in the main street and some of the protesting crowd were running from tear gass used among them, towards Salehi St.
The film is shot by my friend who was standing beside me. Please let the world know."
A later report said she was shot by a Basij riding by on a motorcycle.
More: "The girl in the video below is called Neda Agha Soltan. born 1982, she was a philosophy student. Neda's body has been given back to her family by the police under the condition that there is a quick and disrete / secret / low profile funeral. The Mosques in Tehran are under pressure not to accept the funeral proceedings for Neda. Already the original ceremony at Masjed Al-Reza Mosque located on Niloufar Square was cancelled. It was scheduled for 4.30pm tomorrow. The man with the striped shirt is her father."
TIME writes about the death of Neda: "'Neda' is already being hailed as a martyr, a second important concept in Shiism. With the reported deaths of 19 people Saturday, martyrdom also provides a potent force that could further deepen public anger at Iran's regime. The belief in martyrdom is central to modern politics as well as Shiite tradition dating back centuries in Iran. It too helped propel the 1979 revolution. It sustained Iran during the eight-year war with Iraq, when over 120,000 Iranians died in the bloodiest modern Middle East conflict. Most major Iranian cities have a Martyrs' Museum or a Martyrs' cemetery."
Videos, AFTER THE JUMP...
Here's the uncensored footage. Be warned. It's extremely graphic and disturbing.
CNN coverage:
Footage of Neda before her murder: