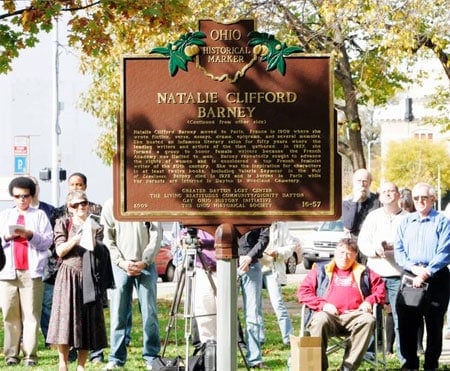 A historical marker erected in Dayton, Ohio's Cooper Park near the downtown library is the state's first to indicate a person's sexual orientation, the Dayton Daily News reports: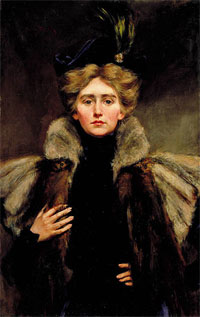 "She may be the most famous Daytonian unknown to Daytonians, but now Natalie Barney — literary patron and lesbian author who lived most of her life in Paris — has her own Ohio Historical Marker near the downtown library. The marker was unveiled Sunday, Oct. 25, in a ceremony at Cooper Park attended by city commissioners, Ohio Historical Society officials and members of state and Dayton area gay rights organizations, which led the effort to recognize Barney for both her place in history and her pioneering openness about her sexuality...Barney's writings supported feminism, paganism and pacifism. In 1900, she published her first book of lesbian love poems, "Quelques Portraits-Sonnets de Femmes," all copies of which her disapproving father purchased and destroyed. That same year, she began holding literary salons in her apartment on the Left Bank. During the next 60 years, many of the greatest writers and artists of the 20th century were frequent guests there, including F. Scott Fitzgerald, Ernest Hemingway, T.S. Elliot, Isadora Duncan, Sinclair Lewis and Truman Capote. She used her wealth to promote many of them.
Dayton librarian and Dayton historian Leon Bey speaks about the marker and its installation at its unveiling over the weekend, AFTER THE JUMP...