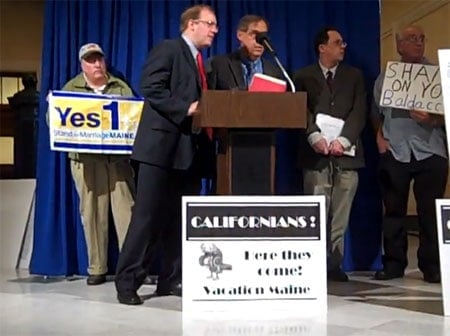 And I thought extremist, irrational bigots were the elephant in the room. Silly me.
From yesterday's hate group press conference at the Maine State House at which Paul Madore, Brian Camenker of MassResistance (a known hate group), and LaBarbera inserted themselves in the Maine marriage battle.
Watch, AFTER THE JUMP...
Bangor Daily News reports that these extremists are too anti-gay for the anti-gays in Maine:
"'We disavow anything said today as being in any way connected to the Stand for Marriage Maine campaign,' said spokesman Scott Fish. 'Whatever was said today was simply the words of the people speaking at the press conference.'"
What else did "Porno Pete" (given that nickname for his obsession with gay fetish sex) LaBarbera have to say?
"Peter LaBarbera, president of Americans for Truth, described the National Gay and Lesbian Task Force — one of the nation's most active gay rights groups — as having 'one of the most radical sexual agendas ever conceived.' He also sought to link the group to efforts to legalize public sex and prostitution, claiming this is part of a larger agenda. 'Very clearly there is already a very aggressive agenda in the schools,' said LaBarbera when discussing a news report of a teacher answering a student's question about her relationship with her partner. 'Homosexual so-called marriage only fuels that agenda. It institutionalizes it so that there can be no difference in how this aber-rant form of 'marriage' is compared to the real thing.'"
Said Jesse Connolly of the "No on 1" campaign: "If radical means loving the person you've been with for many years and trying to provide for that family and for your kids with that committed partner, then I see nothing wrong with that."
Watch Porno Pete, AFTER THE JUMP...