The Empire State Pride Agenda today released a list of 700 clergy and lay leaders from across New York state who are in support of the legislature passing a marriage equality bill.
Read the full list, AFTER THE JUMP...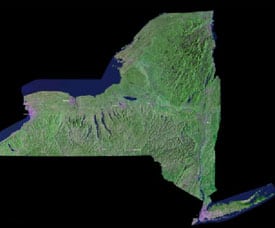 ESPA writes: "The geographic list of clergy and faith leaders in support of New York State allowing same-sex couples access to marriage includes a number of denominations including Lutheran, Episcopalian, Methodist, United Church of Christ, American Baptist, Reformed Church in America and Reform and Conservative movements of Judaism. It also includes influential leaders like Bishop Prince Singh of the Episcopal Diocese of Rochester, Bishop Robert Rimbo of the Metropolitan New York Synod of the Evangelical Lutheran Church in America, and the Rev. Dr. Serene Jones, President of Union Theological Seminary."
Said executive director Alan van Capelle in a statement: "This list represents a diverse group of faith traditions and congregations from all corners of our state. The leaders of these religious institutions understand the spiritual value of respecting all members of their community, including those who are lesbian, gay, bisexual and transgender. These faith leaders—a number of which are not allowed to perform marriages of same-sex couples themselves because of their faith traditions—consider this to be an issue involving the rights and protections of civil marriage, not the traditions and ceremonies of a religious marriage. Their commitment at this important moment in New York demonstrates that there is no one group that owns the pulpit when it comes to whether the state should be treating all families equally by providing same-sex couples access to marriage and the many hundreds of rights and responsibilities New York provides with a marriage license."
Read the full list, AFTER THE JUMP...
And use this tool to call your Senator now.
We, the undersigned, urge the New York State Legislature to
protect families in New York State by extending marriage to same-sex
couples:
Buffalo
Timothy Ashton, Unitarian Universalist Church of Amherst
Rev. Ellen L. Brauza, Episcopal, Buffalo
Linda L. Carroll, United Methodist Church, Orchard Park
Jan J. Carscallen, Catholic, Buffalo
Rev. Dr. Richard A. Danielson, United Church of Christ, Buffalo
Rev. David Felton, United Church of Christ Western New York Regional Conference, East Amherst
The Rev. Clara Gillies, Episcopal, Buffalo
Rev. Matthew Heubach, Wiccan, Kenmore
Lesle Heubach, Catholic, Kenmore
The Rev. Dr. Barbara Hulsing, Good Shepherd Community of Faith, Buffalo
Rabbi Alex Lazarus-Klein, Temple Sinai, Amherst
The Rev. John R. Long, First Presbyterian Church, Buffalo
The Rev. Frances Manly, UU Church of Hamburg, Buffalo
The Rev. Mary Masters, Unity Church, Buffalo
The Rev. M. B. McKay, Pilgrim St. Lukes United Church of Christ, Buffalo
The Rev. Joel M. Miller, Unitarian Universalist Church of Buffalo
Rev. Bridget O'Malley, Pagan, Kenmore
Wendy Palmeri, Unitarian Universalist Church of Buffalo
Zoe Palmeri, Unitarian Universalist Church of Buffalo
Rabbi Harry Rosenfeld, Temple Beth Zion, Buffalo
Mary Jane Russell, United Methodist Church, Orchard Park
The Rev. William J. Russell, Retired, United Methodist Church, Orchard Park
Marlene Schillinger, Jewish Family Services of Buffalo, Snyder
Rev. Nadine A. Schrodt, Cleveland Heights Christian Church, Cheektowaga
Rabbi Jerry Seidler, Temple Sinai, Amherst
The Rev. Sara D. Smith, Esq., Kenilworth United Church of Christ, Buffalo
Chaplain Carol Speser, Rainbow Spirit Rising, Buffalo
The Rev. Scott Thomas, United Church of Christ, Snyder
James Tuskes, Catholic, Kenmore
The Rev. Vivian R. Waltz, Hamburg United Methodist/WNY Reconciling Ministries, Hamburg
The Rev. T. Gerard Williams, Unity Fellow Church, Buffalo

Capital Region
Richard C. Angelo, Episcopal, Guilderland
Deacon Marion L. Bailey, First Church in Albany, Schenectady
The Rev. Bill Barney, First United Methodist Church of Schenectady
Joyce E. Bascom, First Presbyterian Church, Rensselaer
Rabbi Bernard Bloom, Retired, Saratoga Springs
Rabbi Don Cashman, B'nai Sholom Reform Congregation, Albany
The Rev. Steve C. Clunn, First United Methodist Church of Schenectady
Michele A. Cole, First United Methodist Church of Schenectady
Joyce S. Cole, Bethesda Episcopal Church, Gansevoort
The Rev. Stanley F. Craig, Schenectady Classis, Reformed Church in America
Rabbi Matthew S. Cutler, Congregation Gates of Heaven, Schenectady
Elder Terence Diggory, Presbyterian New England Congregational Church, Saratoga Springs
The Rev. Jim A. Ekman, Presbyterian New England Congregational Church, Saratoga Springs
Pastor Jill G. Farnham, Metropolitan Community Church, Albany
Terry Freedland, Jewish (Reform), Albany
Cheryl Gelder-Kogan, Jewish (Reform), Albany
Phyllis Goldstein, Congregation Beth Emeth, Albany
Rabbi Debora S. Gordon, Congregation Berith Sholom, Troy
The Rev. Anthony W. Green, First Congregational Church, Albany
Rabbi Michael R. Greenwald, St. Lawrence University, Canton
Rev. Kathleen Gregg, Presbyterian, Saratoga Springs
Deacon Charles I. Gridley, Delmar Reformed Church
Cantor Glenn Groper, Congregation Beth Emeth, Albany
Rabbi Susan Gulack, Deparment of Corrections, Albany
Ernest Hall, St. Lawrence District, UUA, Board President, Niskayuna
The Rev. Linda Hoddy, Unitarian Universalist Congregation of Saratoga Springs
Rabbi Shoshanah D. King-Tornberg, Congregation Beth Emeth, Albany
Paul Leduc, Episcopal, Plattsburgh
The Rev. Miriam L. Leupold, First Presbyterian Church, Albany
The Rev. Dr. Bill Levering, Senior Pastor, First Reformed Church of Schenectady
The Rev. Diane Rae Marquit, North Creek United Methodist Church
Dave Mesh, Lutheran, Charlton
Ronald H. Miller, Jewish (Reform), Albany
Rabbi Linda Motzkin, Temple Sinai of Saratoga Springs
Elder Judith P. Moyer, Presbyterian, Troy
Elder William Moyer, Presbyterian, Troy
Rabbi Catherine Nemiroff, Jewish (Reform), Albany
Rabbi Dan Ornstein, Congregation Ohav Shalom, Albany
The Rev. Jo Page, Grace Lutheran Church, Schenectady
Catherine C. Parker, St. Andrews Episcopal Church, Albany
The Rev. Stewart E. Pattison, Albany Presbytery, Watervliet
Rev. Paul Rees-Rohrbacher, Lutheran, Albany
The Rev. Priscilla Richter, First Unitarian Society of Schenectady
The Most Rev. Richard G. Roy, Holy Trinity National Catholic Church, Albany
Rabbi Jonathan Rubenstein, Temple Sinai of Saratoga Springs
Audrey Seidman, Jewish, Albany
Rabbi Scott Sheeper, Congregation Beth Emeth, Albany
Lucy Siegel, Jewish (Reform), Albany
Executive Director, Robb Smith, Interfaith Impact of New York State, Albany
Eleanor C. Stanton, Presbyterian New England Congregational Church, Saratoga Springs
The Rev. Helenmarie Sunkenberg, Albany Presbytery, Watervliet
Dianne W. Symansky, Jewish (Reform), Albany
The Rev. Ellen P. Tatreau, Emmanuel Baptist Church of Albany
The Rev. Samuel A. Trumbore, First Unitarian Universalist Society of Albany
Arleen Urell, Jewish (Reform), Albany
The Rev. Lois Ann Wolf, Rockwell Falls Presbyterian Church, Lake Luzerne
The Rev. Nathan Wright, First Congregational Church of Albany
Barbara Zaron, Jewish (Reform), Slingerlands

Central New York
The Rev. Lesley Adams, Episcopal, Geneva
The Rev. Richard A. Breuninger, First United Methodist Church of Oneonta
The Rev. Thomas A. Clemow, First United Methodist Church of Oneonta
The Rev. Beth DuBois, Onondaga Valley Presbyterian Church
Angela Eardley, First United Methodist Church of Oneonta
Pastor Martha T. Fischer, United Methodist Church, Canastota
Peggy R. Gaylord, Centenary St. UMC, Binghamton
William O. Headlee, Park Central Presbytrian Church, Syracuse
Harsey Leonard, Unitarian Universalist, Syracuse
The Rev. J. Andrew McTyre, Park Central Presbyterian Church, Syracuse
Rabbi Michele Medwin, Jewish (Reform), Binghamton
Joyce Miller, Methodist, Oneonta
Margaret Parish, First United Methodist Church of Oneonta
Rev. Craig Schaub, Plymonth Congregational UCC, Syracuse
Rachel J. Siegel, Temple Beth-El, Ithaca
The Rev. John R. Sisley, Retired, Presbyterian, New Hartford
Eleanor L. Stethers, United Methodist Church, Binghamton
Anthony T. Vitteli, Unitarian Universalist Society, Whitesboro
The Rev. Jean Wahlstrom, May Memorial Unitarian Universalist Society, Syracuse
Rev. Kathleen Waters, Presbyterian, Syracuse
Joy Weber, First Baptist Church of Ithaca

Hudson Valley & Catskills
The Rev. Patricia Ackerman, Episcopal, Nyack
The Rev. Paul Alcorn, Bedford Presbyterian Church, Bedford
Seminarian Christina Jean Alexis, West Center Congregational Church, Bronxville
Helen F. Andrew, Memorial United Methodist Church, Sleepy Hollow
Leonard Andrew, Memorial United Methodist Church, Sleepy Hollow
Cantor Dana Anesi, Temple Beth El of Northern Westchester, Chappaqua
Jean-Marie Angelo, Grace Episcopal Church, Mount Vernon
The Rev. Janet L. Avery, Metropolitan Community Church of the Hudson Valley
The Rev. Raymond J. Bagnuolo, Palisades Presbyterian Church, White Plains
The Rev. Edwin D. Baker, Retired, Episcopal, Croton Falls
The Rev. John Barrett, United Church of Christ, Bronxville
Rev. Adam G. Bartholomew, Episcopal, Mount Vernon
Sharon A. Bellamy, Presbyterian, Amsterdam
Hirham Benmira, Presbyterian, Andes
John Bevacqua, Fourth Unitarian Society of Westchester, Mohegan Lake
Margaret E. Borgstede, St. John's Episcopal Church, New Rochelle
Sandra Borowsky, Orangetown Jewish Center, New City
The Rev. Melissa Boyer Holt, United Methodist Church, Buchanan
Tracy Breneman-Pennas, Unitarian Universalist, Montrose
The Rev. David M. Bryce, First Unitarian Society of Westchester, Hastings-On-Hudson
Rabbi/Cantor Angela Buchdahl, Central Synagogue, Scarsdale
Rev. Karen Burger, United Methodist Church, Carmel
Susan M. Cabrera, King of Kings Lutheran Church, Montgomery
Archbishop Michael Champion, Ukrainian Orthodox Church, Buchanan
Dennis Chorpenning, Bronxville Methodist
Mark Clark, St. Francis Xavier Gay & Lesbian Ministry, Nyack
Frances Colombo, St. John's Episcopal Church, New Rochelle
Rev. Gary D. Comstock, United Church of Christ, Woodstock
The Rev. Dale Cranston, Episcopal, Suffern
Rabbi Joshua M. Davidson, Temple Beth El of Northern Westchester, Chappaqua
Jason M. Davis, UU Northern Westchester, Chappaqua
The Rev. Susan G. De George, South Presbyterian Church of Dobbs Ferry
Rev. Peter Dennebaum, First Congregational Church, Chappaqua
Christopher J. DiGiorgio, St. John's Episcopal Church of New Rochelle
Brother James Dowd, Episcopal, West Park
The Rev. Roderic Frohman, Third Presbyterian Church, Rochester
The Rev. Joseph H. Gilmore, South Presbyterian Church of Dobbs Ferry
Rabbi Andrew Gordon, Scarsdale Synagogue-Temples Tremont and Emanu-El
Kathy Green, St. John's Episcopal Church, New Rochelle
The Rev. Harry C. Green, First Unitarian Society of Rockland County, Pomona
The Rev. Thomas Gregg, Pastor, West Charlton United Presbyterian Church, Amsterdam
The Rev. David Gregory, United Church of Christ, Middletown
George Hermann, Congregation Beth Simchat Torah, Larchmont
Rose Ann Hermann, Congregation Beth Simchat Torah, Larchmont
Rev. Anne Herscher, Methodist, Montgomery
The Rev. Rayner W. Hesse, Jr., St. John's Episcopal Church, New Rochelle
The Rev. Jean A. F. Holmes, Presbytery of Hudson River, New City
The Rev. Margaret E. Howland, Presbyterian, Yonkers
Rev. Thomas Hughart, Presbyterian, Bedford
Rabbi Jennifer Jaech, Temple Israel of Northen Westchester, Croton-On-Hudson
Chip James, Cherokee, Monroe
Debora J. Jordan, Fourth Unitarian Society of Westchester, Mohegan Lake
David J. Juhren, St. John's Episcopal Church, New Rochelle
Paul L. Kerlee, Episcopal, Elmsford
Cantor Hayley Kobilinsky, Congregation B'nai Yisrael, Armonk
Leonora A. Kovacs, Church of The Messiah Rhinebeck
Rabbi Douglas Krantz, Congregation B'nai Yisrael, Armonk
Rabbi Neal Joseph Loevinger, Poughkeepsie
Evelyn Lombardi, Episcopal, West Nyack
Linda Lott, Saint John's Episcopal Church, New Rochelle
Rabbi Paula Mack Drill, Orangetown Jewish Center, Orangeburg
The Rev. Richard R. McKeon, Zion Episcopal Church, Dobbs Ferry
Marsha Melnick, Congregation Beth Simchat Torah, Warwick
Carol Mencher, Congregation Kol Ami, White Plains
Susan E. Meyer, Congregation Beth Simchat Torah, Warwick
Rabbi Shira Milgrom, Congregation Kol Ami, White Plains
The Rev. Deb Morra, CSW, Community Unitarian Church at White Plains
The Rev. Daniel M. Morse, First Presbyterian, Middletown
Rabbi Benjamin Newman, Congregation M'vakshe Derekh, Scarsdale
Rev. Thomas Nicoll, St. John's Church, Larchmont
Rev. James O'Hanlon, Lutheran, Mount Vernon
Rev. Katherine Herron Piazza, St. John's Church, Larchmont
President Barbara Pollard, Reform Jewish Voice, Scarsdale
The Rev. Cheryl Renn, One Spirit Interfaith, Yonkers
The Rev. William Blake Rider, Christ Episcopal Church, Poughkeepsie
Guy Robinson, St. John's Episcopal Church, New Rochelle
Elizabeth B. Saenger, Jewish (Reform), Mamaroneck
Michael R. Sabatino, Jr., Zion Episcopal Church, Yonkers
Rev. Dawn Sangrey, Fourth Unitarian Society of Westchester
Rabbi David A. Schuck, Pelham Jewish Center
Barbara G. Selbst, Congregation Kol Ami, White Plains
The Rev. Angela M. Skinner, Presbyterian, Yorktown Heights
Rabbi Abigail N. Sosland, Solomon Schechter High School of Westchester
Father James F. Stewart, Benedictine Gronge, Harrison
The Rev. Mary Ellen Summerville, Asbury United Methodist Church, Tuckahoe
The Rev. William Taber, Third Presbyterian Church, Rochester
The Rev. Molly Blythe Teichert, The Presbyterian Church of Mount Kisco
Petra Thombs, Community Unitarian Universalist Church at White Plains
The Rev. Rachel Thompson, Bedford Presbyterian Church
The Rev. Dr. Michael Tino, Unitarian Universalist Fellowship of Northern Westchester, Mount Kisco
Denice Tomlinson, Community Unitarian Universalist Church at White Plains
Susan Torres-Bender, Unitarian Universalist, Monroe
Rabbi Gordon Tucker, Temple Israel Center, White Plains
The Rev. Martha E. Vink, New York Annual Conference of the United Methodist Church, Delhi
Rev. Terri Vitale, Interfaith, Mt. Vernon
Robert Voorheis, Zion Episcopal Church, Yonkers
The Rev. Kenneth L. Walsh, Reformed Church in America, Kingston
The Rev. Fr. John B. Warfel, Grace Episcopal Church, Middletown
Rabbi Tom Weiner, Congregation Kol Ami, White Plains
David Weiser, St. John's Episcopal Church, New Rochelle
Rev. Norman D. White, Pastor, Lutheran, White Plains
Long Island
Herb Adler Jr., Long Island Presbytery, Commack
Laura Albert, Unitarian Universalist Society of South Suffolk, Babylon
Bruce A. Anspach, United Methodist Church, Huntington Station
The Rev. Nancy O. Arnold, Unitarian Universalist, Valley Stream
The Rev. JoAnn Barrett, Gathering of Light Multifaith Spiritual Fellowship, Dix Hills
Melissa Bernard, Prince of Peace Independent Catholic Community, Seaford
The Rev. Maura Bernard, Prince of Peace Independent Catholic Community, Seaford
The Rev. Mark Bigelow, United Church of Christ, Centerport
Marianne Biondo, Catholic, Brentwood
The Rev. Beverly Boyarsky, Beacon of Light Ministry, North Babylon
The Rev. Jennifer L. Brower, Unitarian Universalist Congregation at Shelter Rock, Manhasset
Jerilyn A. Buck, Presbyterian, Levittown
Rev. Michael W. Caine, United Church of Christ, New York Conference, Middle Village
Diane Churchill, Episcopal, Nyack
Rabbi Jeffrey S. Clopper, Jewish (Reform), South Huntington
Rabbi Judy Cohen-Rosenberg, Community Reform Temple, Westbury
The Rev. Lilia Cuervo, Unitarian Universalist Congregation at Shelter Rock, Manhasset
The Rev. Noelle Damico, United Church of Christ, Setauket
Rabbi Benjamin David, Temple Sinai of Roslyn
Sherri Felt Dratfield, Sinai Reform Temple, North Babylon
Deacon Claudia DeBellis, Sayville Congregational UCC
Linni Deihl, Long Island Presbytery, Commack
Laura DeSario, Unitarian Universalist Society of South Suffolk, Bay Shore
Rabbi Antonio DiGesu, South Baldwin Jewish Center
Eileen L. DiGiovanna, United Methodist Church, Smithtown
Jill Engelhardt, Methodist, Lindenhurst
Deacon Michael Fallacara, Sayville Congregational UCC
Rev. William D. Feinberg, Unitarian Universalist, Central Islip
Harriet Feiner, Reconstructionist Synagogue of the North Shore, Floral Park
Victor Fornari, Temple Beth-El of Great Neck
Marilyn Fox, Presbyterian, Northport
Rabbi Lee Friedlander, Reconstructionist Synagogue of the North Shore, Plandome
The Rev. Jeffrey Geary, Setauket Presbyterian Church
James Giarraputo, Unitarian Universalist Society of South Suffolk, Bay Shore
The Rev. Bonnie J. Giebfried, Golden Eagle Interfaith Ministries, New Hyde Park
Jean S. Gill, Sayville Congregational UCC
Rev. Tom Goodhue, Long Island Council of Churches, Hempstead
The Rev. Richard N. Graugh, Presbyterian, Stony Brook
Diane Greene, Sinai Reform Temple, West Islip
The Rev. Jane Ann Groom, Sayville Congregational UCC
Rabbi Marc Gruber, Jewish (Reform), Rockville Centre
Rev. Robert W. Gunn, United Church of Rockville Centre
Thaddeus Harubin, Long Island Community Fellowship, Bay Shore
Cantor Lisa Hest, Temple Beth El of Great Neck
The Rev. Dr. G. Shane Hibbs, Long Island Community Fellowship, Bay Shore
John Hirsch, Ph.D., Temple Beth-El of Great Neck
Rabbi Michelle Interlicchio, Sinai Reform Temple, Bay Shore
Rev. Roger D. Johns, St. Mark's United Methodist Church, Rockville Centre
The Rev. Hope Johnson, Unitarian Universalist Congregation of Central Nassau, Garden City
The Rev. Jerra Juliano, Golden Eagle Interfaith Ministries, New Hyde Park
Rabbi Stephen A. Karol, Jewish (Reform), Stoney Brook
Karyn Kirschbaum, Sinai Reform Temple, Babylon
Dr. Anne Klaeysen, Doctor of Ministry, Leader of the Ethical Humanist Society of Long Island, Garden City
Rev. Harold Lay, Former head, Reformed Church in America, Hicksville
Marilyn M. Lay, Parkway Community Church, Levittown
Sungma Lee, United Methodist Church, Bay Shore
Herbert M. Leiman, Temple Beth-El of Great Neck, North Hills
Elder Diane E. Lobaugh, Presbyterian, Northport
Rabbi Emily Losben, Jewish (Reforn), Bay Shore
The Rev. Hal Low, Pastor, United Methodist Church, Northport
The Rev. Mark J. Lukens, Bethany Congregational UCC, East Rockaway
Rabbi Devorah Marcus, Temple Beth El of Great Neck
The Rev. Annie Mark, Gathering of Light Multifaith Spiritual Fellowship, Dix Hills
Rev. Susan Marlan, Interfaith, Great Neck
Rabbi Leon Morris, Jewish (Reform), Sag Harbor
Rabbi Steven Moss, Suffolk County Human Rights Commission
The Rev. Sean B. Murray, The Community Church of Syosset
Edward Myers, Presbyterian, Lake Ronkonkoma
Lorraine Myers, Presbyterian, Lake Ronkonkoma
Cantor Judith Naimark, Jewish, Rockville Centre
Rabbi Howard Needleman, Jewish (Reform), Commack
Karyn O'Beirne, Unitarian Universalist Society of South Suffolk, Bay Shore
Nancy Orkin, Sinai Reform Temple, West Islip
The Rev. Richard S. Parker, Retired United Methodist Pastor, Babylon
William K. Peirez, Temple Beth-El of Great Neck
Jodi Perlman, Reconstructionist Synagogue of the North Shore, Manhasset
The Rev. Thomas J. Philipp, Old Southaven Presbyterian Church, Brookhaven
The Rev. Robert Pierce, Sayville Congregational UCC
The Rev. Gerard Pruziner, Multi-faith, Commack
The Rev. A. Erik Rasmussen, Bellport United Methodist Church
The Rev. Paul Ratzlaff, Unitarian Universalist Fellowship of Huntington
Susanne Richter, Unitarian Universalist Society of South Suffolk, Bay Shore
Angel L. Rivera, Sinai Reform Temple, Brentwood
Susan Rivera, Sinai Reform Temple, Brentwood
Marilyn M. Rodahan, Presbyterian, Wantagh
Rabbi Lisa Rubin, Temple Beth El of Great Neck
Gillian Samuel, Long Island Community Fellowship, Freeport
Eva Sanchez, Long Island Community Fellowship Church, Lindenhurst
The Rev. Nancy Schaffer, Sayville Congregational UCC
Muriel Schechtel, Sinai Reform Temple, North Babylon
Cantor Eric Schulmiller, Reconstructionist Synagogue of the North Shore, Plandome
Rabbi Arthur Schwartz, Kehillath Shalom Synagogue, Cold Spring Harbor
The Rev. Rebecca Segers, Presbyterian, Melville
William Shahn, Long Island Community Fellowship, Bay Shore
Rabbi Richard J. Shapiro, Jewish (Reform), Great Neck
Cantor Sandy Sherry, Temple Beth El of Huntington
Rabbi Jodie Siff, Reconstructionist Synagogue of the North Shore, Plandome
Rev. Elisabeth K. Simpson, Presbyterian, Glen Gove
Jeff Spahn, Sayville Congregational UCC
Rabbi Elliot Skidell, Congregation Beth Emeth, Hewlett
The Rev. Thomas R. Smoot, St. Paul's United Methodist Church, Centereach
Rev. Robert Splittgerber, Lutheran, Long Beach
Gaitley Stevenson-Matthews, First Presbyterian Church of Glen Clove
Maria Studer, Presbyterian, Levittown
The Rev. Pamela Szurek, Presbyterian, Wantagh
The Rev. Michael Tesmacher, Prince of Peace Independent Catholic Community, Central Islip
Elder Carol Teta, Presbyterian, Levittown
The Rev. Catherine Torpey, South Nassau Unitarian Universalist Congregation, Freeport
Rev. Laura Tria, I Serve, Bay Shore
Bill Van Zwiernen, Unitarian Universalist Society of South Suffolk, Bay Shore
Jeri Velasquez, Unitarian Universalist Society of South Suffolk, Copiaque
The Rev. Kitt Von Braunsberg, United Chruch of Christ, Albertson
Rev. Deborah Waring, Interfaith, Amityville
The Rev. Stacie Weldon, Rainbow Interfaith Ministries
Rabbi Michael White, Jewish (Reform), Roslyn Heights
Brian Whittaker, Trustee, Unitarian Universalist Society of South Suffolk, Bay Shore
Ned Wight, Unitarian Universalist, Manhasset
Rabbi Paula J. Winnig, Lawrence
The Rev. Carol M. Wolff, Unitarian Universalist Fellowship at Stony Brook
Cantor William S. Wood, Central Synagogue of Nassau County, Rockville Centre
Rabbi Irwin Zeplowitz, The Community Synagogue, Port Washingtion
Marjorie ZucKerman, Sinai Reform Temple, Brightwaters
Cantor Arlene Zucker, Jewish Center of Bay Shore

New York
Cantor Nancy Abramson, Park Avenue Synagogue, New York
Deacon Laura F. Adams, Unity Fellowship Church, Brooklyn
Rabbi David Adelson, East End Temple, New York
Pastor Moira Ahearne, Jan Hus Presbyterian Church, New York
The Rev. Fr. Joseph A. Akus, Chaplain, Dignity New York
Marc Almendarez, Lutheran, Astoria
Rabbi Julia Andelman, New York
Rev. A. David Anglada, Lutheran, New York
Rev. Eduardo F. Arias, Zion Iglesia Lutheran Church, New York
Cantor Kathy J. Barr, The Village Temple, New York
The Rev. Fr. Luis Barrios, St. Mary's Episcopal Church, New York
The Rev. J. Barrington Bates, Church of the Ascension, New York
The Rev. Kevin D. Bean, St. Bartholomew's Church, New York
Rabbi Shelley Kovar Becker, Temple Sholom, Floral Park
The Rev. Fr. Don Becker, Catholic Priest for Dignity New York
Rabbi Marci Bellows, Temple Shaaray Tefila, New York
Cantor David Berger, Congregation Beth Simchat Torah, New York
Seminarian Julia Bertalan, Union Theological Seminary, New York
Seminarian Cecelia Beyer, Jewish, New York
Rev. Melinda Bjorkman, Lutheran, Staten Island
Deacon Jimie Blair, Unity Fellowship Church, Brooklyn
Kelsey Blankenship, Union Theological Seminary, New York
Gabriel Blau, Board Member, Congregation Beth Simchat Torah, New York
The Rev. Paul Block, Transfiguration Church, Bronx
Alma Bock, Church of the Redeemer, Astoria
Betty Bolden, Presbyterian, Bronx
Lisa M. Borbeck, Lutheran, Jamaica
Rev. Jill M. Bowden, Unitarian Universalist, New York
Fr. Louis Braxton, Jr., Carmen's Place, Astoria
Rabbi Marcelo Bronstein, Congregation B'nai Jeshurun, New York
Rev. J. Elise Brown, Advent Lutheran Church, New York
The Rev. Pat Bumgardner, Metropolitan Community Church, New York
Sarah Cairatti, First Presbyterian, New York
The Rev. Josephine Cameron, Presbyterian, Bronx
The Rev. James P. Campbell, United Church of Christ, New York
Bria Carreira, Catholic, Brooklyn
Brian Carrison, Catholic, Brooklyn
Rabbi Carie Carter, Park Slope Jewish Center, Brooklyn
Joe A. Castaldo, Catholic, New York
Deacon Stephen Cerny, In the Life Ministries, Jamaica
The Rev. Glenn B. Chalmers, Church of the Holy Apostles, New York
Benjamin R. Cherland, Trinity Lutheran Church, New York
The Rev. Michael Church, Lutheran, Astoria
Rabbi Ayelet S. Cohen, Congregation Beth Simchat Torah, New York
Seminarian Joya Colon, Riverside Church, New York
Elizabeth Cooper, Congregation Beth Simchat Torah, Brooklyn
Maria Cortes, Episcopal, East Elmhurst
Father Denis A. Couture, FCR, Sts. Sergius & Bacchus Catholic Apostolic Church, Ozone Park
Patricia A. Crawford Esq., Broadway United Church of Christ, Brooklyn
Mark D'Alessio, St. Bartholomew's Church, New York
The Rev. Donna Dambrot, Episcopal, New York
The Rev. Dr. Edgard Danielsen-Morales, Metropolitan Community Church of New York
Swami Ji Debanju Dasgupta, Hindu, New York
Debauer De Oliveira, Metropolitan Community Church of New York, New York
Rev. Amandus J. Derr, Saint Peter's Lutheran Church, New York
Seminarian Anna DeWeese, Methodist, Union Theological Seminary, New York
The Rev. James Dusenbury, In The Life Ministries, Bronx
Rev. David W. Dyson, Presbyterian, Brooklyn
Rabbi David Ellenson, President, Hebrew Union College, New York
The Rev. Michael D. Ellick, Judson Memorial Church, New York
Cantor Rick Erickson, Holy Trinity Lutheran Church, New York
The Rev. Mark E. Erson, Redeemer Lutheran Church, Queens Village
Minister Antionettea Etienne, Unity Fellowship Church, Brooklyn
The Rev. Patricia Evant, Retired, Lutheran, Elmhurst
Brendan Fay, Roman Catholic, Astoria
Rabbi Edward Feld, The Jewish Theological Seminary of America, New York
Rabbi Marla Feldman, Commission on Social Action of Reform Judaism, New York
Louise R. Fitzgerald, Catholic, New York
The Rev. Francesca Fortunato, Community of St. John, New York
Stephen E. Frank, Board President, Congregation Beth Simchat Torah, New York
The Rev. Dr. Katrina D. Foster, Fordham Evangelical Lutheran Church, Bronx
The Rev. Mary Foulke, Episcopal, New York
Rabbi Steven A. Fox, Central Conference of American Rabbis, New York
Rabbi David Freidenreich, Keshet, New York
Rabbi Dara Frimmer, Congregation B'nai Jeshurun, New York
Steven Fruh, Board Member, Congregation B'nai Jeshurun, New York
Rabbi Ruth Gais, PhD., Hebrew Union College/Jewish Institute Of Religion, New York
Eric Garfinkel, The Fourth Universalist Society in the City of New York
Rev. G. Jude Geiger, First Unitarian Congregational Society in Brooklyn
Gary Paul Gilbert, St. Mark's Episcopal Church, Jackson Heights
Rev. Debra Given, Presbyterian, New York
Rabbi Nadia Gold, New York
Rabbi Laurie B. Gold, Queens
Rabbi Irwin Goldenberg, Forest Hills
The Rev. Thomas C. Goodhart, Reformed Church in America, Ridgewood
Rabbi Linda Henry Goodman, Union Temple of Brooklyn
Rev. Mimi Goodwin, Interfaith, New York
Cantor Rebecca Garfein, Congregation Rodeph Sholom, New York
Michael Gray, Lutheran, Queens Village
Rabbi Steven Greenberg, National Jewish Center for Learning and Leadership, New York
Rabbi David Greenstein,The Academy For Jewish Religion, Riverdale
Rabbi Lisa J. Grushcow, Congregation Rodeph Sholom, New York
Chad Gurley, Riverside Church, New York
Rev. Doug Haak, Grace Lutheran Church, Jamaica
Cantor Bruce Halev, Congregation Habonim, New York
Rabbi Jill C. Hammer, Academy For Jewish Religion, New York
Rev. Yvonne Harrison, Family of Faith Ministries, Rosedale
Rabbi Jill Hausman, The Actors Temple, New York
Deacon John Hayes, Metropolitan Baptist Church, New York
Rev. Alicia Heath-Toby, Unity Fellowship Church, Brooklyn
Honey Heller, Reform Jewish Voice, New York
Rev. Carmen Hernandez, Youth Community Pastor, Bronx
Rabbi Garson Herzfeld, Progressive Temple Beth Ahavath Sholom, Brooklyn
Mark A. Hill, Our Savior's Atonement Lutheran Church, New York
The Rev. Valerie Holly, United Fellowship of Christ Church, Brooklyn
Rabbi Lauren Holtzblatt, Congregation B'nai Jeshurun, New York
Neal D. Hoffman, Board Member, Congregation Beth Simchat Torah, New York
Charon Hribar, Catholic, New York
John Hunter, Ph.D., Interfaith, New York
Joyce Ilson, Jewish, Brooklyn
The Rev. Cari Jackson, First Presbyterian Church of Brooklyn
The Rev. Laura R. Jervis, Presbyterian, New York
Dorothy Jiji, New York
Nicole Johnson, Lutheran, New York
The Rev. Dr. Serene Jones, Union Theological Seminary, New York
Lina Joshi, Buddhist, New York
Rev. Susan Julia, Judson Memorial Church, New York
Rabbi Jeremy Kalmanofsky, Congregation Ansche Chesed, New York
Rev. Ann Kansfield, Greenpoint Reformed Church, Brooklyn
Rabbi Leora Kaye, Congregation Rodeph Sholom, New York
John S. Kennard, SGI-USA, New York
Rev. Scott Kershner, Lutheran, Brooklyn
Jeremy Kirk, Union Theological Seminary, New York
The Rev. Dr. J. Christopher King, The Church of St. Luke in the Fields, New York
Rabbi Sharon Kleinbaum, Congregation Beth Simchat Torah, New York
Rabbi Peter S. Knobel, Central Conference of American Rabbis, New York
Laurel Koepf, Broadway United Church of Christ, New York
Harold D. Kooden, Ph.D., Interfaith, New York
Rabbi Elisa F. Koppel, Union for Reform Judaism, Greater New York Council, New York
Rabbi Chava Koster, The Village Temple, New York
Rev. Darryl Kozak, Redeemer Saint John's, Brooklyn
The Rev. Galina Krasskova, Urdabrunnr Kindred, New York
Heymi J. Kuriel, Board Member, Congregation Beth Simchat Torah, New York
Rabbi Lauren Kurland, Congregation Ansche Chesed, New York
Rev. Katherine Kurs, West-Park Church, New York
Robert V. Kushner, Congregation Beth Simchat Torah, New York
The Rev. Stacey Latimer, Unity Fellowship Church, Brooklyn
Rabbi Sari R. Laufer, Congregation Rodeph Sholom, New York
Rabbi Esther Lederman, Congregation B'nai Jeshurun, New York
The Rev. Raymond Lefebvre, Catholic Priest, Dignity New York
Rabbi Robert N. Levine, Congregation Rodeph Sholom, New York
Rabbi Carol Levithan, The Jewish Community Center in Manhattan
Rabbi Joy Levitt, Community Center in Manhattan
Rev. David Lewicki, Reformed Church in America, New York
The Rev. Jacqueline Lewis, Middle Collegiate Church, New York
Rabbi Serge A. Lippe, Brooklyn Heights Synagogue
Rabbi Ellen P. Lippmann, Kolot Chayeinu/Voices of Our Lives, Brooklyn
Lois G. Lirezey, Presbyterian, New York
Roy Lloyd, Lutheran, Queens
Ronald B. Lonesome, M.D., Riverside Church, New York
Rev. Leo Longan, Pastor, Trinity Lutheran Church, Middle Village
Carlos Lopez, Advent Lutheran Church, New York
Claudia Lorie-Kwai, R.N., The Fourth Universalist Society in the City of New York
David Ludwigson, Catholic, New York
Rev. Barbara Lundblad, Advent Lutheran Church, Union Theological Seminary, New York
Erin Madden, Catholic, East Atlantic Beach
The Rev. Ian White Maher, Unitarian Universalist, Flushing
Michael Mallon, Integrity NYC, Astoria
The Rev. Ransford N. Manigault, Interfaith, Flushing
Jack David Marcus, Congregation B'nai Jeshurun, New York
Rabbi Jeffrey Marker, Brooklyn
The Rev. Mark E. Marsh, United Church of Christ, Jamaica
Rabbi J. Rolando Matalon, Congregation B'nai Jeshurun, New York
Marlin R. Mattson, M.D., Church of the Holy Trinity, New York
The Rev. Elizabeth G. Maxwell, Church of the Holy Apostles, New York
The Rev. Daniel H. McCarthy, Roman Catholic, Dignity New York
Deacon Joseph E. McDonough, Church of the Epiphany, Bronx
Stephen McFadden, Chair, Committee of LGBT Concerns, Episcopal Diocese of New York
Colin McKnight, First Lutheran Church of Albany
The Rev. Rosemary Bray McNatt, The Fourth Universalist Society in the City of New York
Seminarian Emily McNeill, Union Theological Seminary, New York
The Rev. Joseph Franklin Medlin, Jr., First Congregational Church, Rockaway Beach
The Rev. Dr. Daniel Meeter, Old First Reformed Church, Brooklyn
The Rev. Leslie Merlin, Second Presbyterian Church, New York
Rev. Richard A. Miller, Pastor, St. John-St. Matthew-Emanuel Lutheran Church, Brooklyn
The Rev. Thomas P. Miller, Cathedral of St. John the Divine, New York
Rev. Gary Mills, Metropolitan New York Synod, Evangelical Lutheran Church of America, New York
Rev. Charles B. Mitchell, First Presbyterian Church of New York City
Rabbi Katie Mizrahi, West End Synagogue, New York
Seminarian Katy Moore, Presbyterian, Union Theological Seminary, New York
Charlie Monsanto, Catholic, Brooklyn
Michael A. Morris, The Riverside Church, Bronx
The Rev. James J. Morris, M.Div, Roman Catholic, Dignity New York
The Rev. Dr. Bradford L. Motta, Middle Collegiate Church, New York
Paul Mowry, Presbyterian, Brooklyn
The Rev. Stephen D. Muncie, Grace Church, Brooklyn
Martin Munoz, Saint Marks Church in the Bowery, Elmhurst
SJ Muratori, Union Theological Seminary, New York
The Rev'd Kelly Murphy Mason, South Nassau Unitarian Congregation of Central Nassau, Bronx
Luz Stella Ochoa, Church of the Redeemer, East Elmhurst
Rev. Patrick O'Connor, Presbyterian, Jamaica
The Rev. Roshi Pat Enkyo O'Hara, Village Zendo, New York
Jose Enrique Ortiz, Other Sheep, Bronx
The Rev. Veronica Owens, In The Life Ministries, Bronx
Timothy Palmer, Chancellor of the Vestry, St. Michael's Episcopal Church, New York
Rev. Stephen Parelli, Other Sheep, Bronx
The Rev. David C. Parsons, St. John-St. Matthew-Emanuel Lutheran Church, Brooklyn
Rabbi Mayer Perelmuter, Reform Temple of Forest Hills
George Plagianos, AXIOS Eastern & Orthodox Gay and Lesbian Christians, New York
Edward Poliandro, St. Francis Xavier, New York
Rev. Luisa Porrata, Riverside Church, New York
Alberto Posada, Church of the Redeemer, Astoria
Sherrilynn L. Posey, Judson Memorial Church, Bronx
The Rev. David D. Prince, Rutgers Presbyterian Church, New York
Rev. William Purdy, Pastor, Lutheran, New York
The Rev. Elizabeth Putnam, The Fourth Universalist Society in the City of New York
The Rev. Juan S. Quesedo-Bosch, Church of the Redeemer, Astoria
The Rev. Thomas F. Reese, Saint Lukes Episcopal Church, Forest Hills
Rabbi Sarah H. Reines, Central Synagogue, New York
Cantor Judy Ribnick, Park Slope Jewish Center, Brooklyn
The Rev. Deborah Rice, Unity Fellowship Church, Brooklyn
Rabbi Yael Ridberg, New York
The Right Reverend Robert Rimbo, Lutheran Metropalitan New York Synod
Ammon S. Ripple, Jr., Broadway United Church of Christ, New York
Manuel R. Rodriguez, St. Bartholomew's, New York
Brian Romero, Church of the Redeemer, Astoria
Rabbi Roger Ross, Rabbinical Seminary International/The New Synagogue, New York
The Rev. Deborah S. Ross, The New Seminary for Interfaith Studies, New York
Rabbi Peter J. Rubinstein, Central Synagogue, New York
Gayle Ruege, Lutheran Metropolitan New York Synod
Eric Rosenbaum, Congregation Beth Simchat Torah, New York
Cantor Liz Kessler Sacks, Central Synagogue, New York
Djamillah Samad, Advent Lutheran Church, New York
Rabbi Joanna Samuels, Congregation Habonim, New York
Rev. J. Manny Santiago, United Methodist, Brooklyn
Rabbi Jeffrey S. Saxe, Central Synagogue, New York
Patricia Scalese, Union Theological Seminary, New York
Timothy Scalet, Metropolitan Community Church of New York
Rev. Donna Schaper, Judson Memorial Church, New York
Rev. Marian Zell Schwartzman, Temple of Miraculous Perception, New York
Rabbi Rona Shapiro, Ma'yan:The Jewish Women's Project, New York
Mae Sheppard, All Saints Lutheran Church, Flushing
The Rev. Bette Shom, Good Shepherd UMC, Astoria
Rabbi Burt Siegel, The Shul of New York
The Rev. Barry M. Signorelli, Church of the Holy Apostles, New York
Rachel Silver, The Fourth Universalist Society in the City of New York
The Rev. Henry T. Simmons, United Church of Christ, St. Albans
Seminarian Melissa Simon, Jewish (Reform), New York
Cantor Daniel Singer, New York
Jacob Slichter, St. Paul's Chapel, Brooklyn
Pastor Bette Johnson Sohm, United Methodist Church, Astoria
Rabbi Felicia L. Sol, Congregation B'nai Jeshurun, New York
The Rev. Bruce Southworth, The Community Church of New York
Charisa Smith, Zen Buddhist, New York
Rabbi Brent Chaim Spodek, Congregation B'nai Jeshurun, New York
Rabbi Alan Stadmauer, New York
The Rev. Floyd M. Stallings, Episcopal, New York
Rabbi Eric B. Stark, Greater New York Council, Union for Reform Judaism, New York
Lisa Stiffler, The Fourth Universalist Society in the City of New York
The Rev. Krishna Stone, United Church of Christ, Brooklyn
Jeffrey A. Stone, Dignity New York, Inc.
Seminarian Stephenie Stovall, Union Theological Seminary, New York
Rabbi Michael Strassfeld, The Society for the Advancement of Judaism, New York
Rev. Charles H. Straut, Methodist, Brooklyn
Stephen Studricke, Judson Memorial Church, New York
The Rev. Micah Stumme, Lutheran, South Ozone Park
Ira Stup, Jewish, New York
The Rev. James Sudbrock, Advent Lutheran Church, New York
Miriam Summerford, Catholic, Long Island City
Rabbi Bonita Sussman, Community Health Action of Staten Island
The Rev. Julie Taylor, Unitarian Universalist, New York
The Rev. Anna Taylor Sweringen, Assoc. Pastor, First Presbyterian Church, Jamaica
Rev. Ann Tiemeyer, Lutheran, New York
The Rev. Roy Griffin Thomas, Pastor, Lutheran Church of the Messiah, Brooklyn
The Rev. Joseph W. Tolton, Rehoboth Temple, New York
Orlando Torres, Lutheran, Bronx
Jacquelynn C. Van Vliet, Rutgers Presbyterian Church, New York
The Rev. Mieke Vandersall, Presbyterian, New York
The Rev. Noel D. Vanek, United Church of Christ, Forest Hills
Rev. Winnie Varghese, St. Mark's Church in Bowery, New York
The Rev. Virginia Ver Eecke, LCSW, One Spirit Interfaith Seminaries, Brooklyn
Rev. Vernon Victorson, First Lutheran Church of Albany
Juana Videla, Episcopal, Maspeth
Rabbi Daniel Victor, The Jewish Theological Seminary, New York
The Rev. Dr. Joshua Volle, The Interfaith Temple, New York
The Rev. Nathan C. Walker, Unitarian Church of Staten Island
Kate Walter, Middle Collegiate Church, New York
Rev. Dr. Jon Walton, First Presbyterian Church in the City of New York
Janet Walton, Roman Catholic, New York
Marian Warden, Jewish (Reform), New York
Rabbi Scott B. Weiner, The Hebrew Tabernacle, New York
Rev. Shere Weinstein, Interfaith, New York
The Rev. William Weisenbach, Katonah Presbyterian Church
Rabbi Michael Weisser, Free Synogogue, Flushing
Rabbi Margaret M. Wenig, Beth Am, The People's Temple, New York
Father Charles Werth, Dignity New York, Forest Hills
James Wesley, The Fourth Universalist Society in the City of New York
Stacy Collen Wessel-Mccoy, United Methodist Church, New York
Clark William, Buddhist, New York
Peter S. Wilson, Presbyterian, New York
Rev. Ruby Wilson, United Church of Christ, Jamacia
The Rev. Mark Wind, Interfaith, New York
David J. Wine, Board Member, Congregation Beth Simchat Torah, New York
Seminarian Mary Winkelpleck, Union Theological Seminary, New York
Laurie Wittich, Reformed Church in America, New York
Marisa Miller Wolfson, The Fourth Universalist Society in the City of New York
Rabbi Ruth A. Zlotnick, Central Synagogue, New York
Lisa Zucker, Congregation B'nai Jeshurun, New York
Nicholas Zymaris, Co-President, Axios USA-Eastern & Orthodox LGBT Christians, Staten Island

Rochester & Finger Lakes
Deacon Joanne Anderson, Third Presbyterian Church, Rochester
Rev. Kaaren Anderson, First Unitarian Church, Rochester
The Rev. Robert Arrington, Tawa Pano Unity Fellowship Church, Rochester
The Rev. S. Philip Benier, Twelve Corners Presbyterian Church, Rochester
The Rev. J. Brad Benson, Episcopal, Bath
Sara Berger, First Unitarian Church, Rochester
Cantor Freyda Black, Chemung
The Rev. Lynn Carman Bodden, United Church of Christ, Rochester
John Clinton Bradley, Acting Executive Director, Integrity USA, Rochester
Rev. Mary Ann Brody, St. Stephen's Episcopal Church, Rochester
The Rev. Dr. Gay L. Byron, Colgate Rochester Crozer Divinity School, Rochester
The Rev. Judy Lee Hay, Calvary St. Andrews Presbyterian Parish, Rochester
Elder Ralph C. Carter, Jr., Presbyterian, Rochester
The Rev. Jennifer Crow, First Unitarian Church of Rochester
Robert E. Crystal, Episcopal Church of the Ascension, Rochester
Elder Robert O. Day, Calvary St. Andrews Presbyterian Parish, Rochester
Rev. Denise Donato, Spiritus Christi Church, Rochester
The Rev. Konrad V. Emmert, United Church of Christ, Churchville
Nancy Fitts, First Unitarian Church of Rochester
The Rev. Dr. Richard Gilbert, Retired Unitarian Universalist Minister, Rochester
Erin M. Gingrich, First Unitarian Church of Rochester
Rabbi Scott Glass, Temple Beth-El, Ithaca
Rabbi Jennifer L. Gravitz, Jewish (Reform), Rochester
The Rev. Sally Hamlin, First Universalist Church of Rochester
David Heckman, First Congregational Church of Christ, Newark Valley
Rev. Robin Higgins, Plymouth Spiritualist Church, Rochester
The Rev. Michael W. Hopkins, Episcopal Church of St. Luke & St. Simon Cyrene, Rochester
Neil D. Houghton, Regional VP, Episcopal Diocese Integrity USA, Mendon
Elder Ally W. Howell, JD, LL.M, Downtown United Presbyterian Church, Rochester
The Rev. Deven Hubert, St. Luke's Episcopal Church, Fairport
The Rev. Deborah L. Hughes, Baptist, Rochester
Kristin E. Hunt, Downtown United Presbyterian Church, Rochester
Elizabeth B. Iwan, Third Presbyterian Church, Rochester
Rev. Dr. Sharon Jacobson, Tawa Pano Unity Fellowship Church, Rochester
Rabbi Alan J. Katz, Temple Sinai, Rochester
The Rev. Martha Koenig Stone, Henrietta United Church of Christ, Rochester
The Rev. Dr. H. Darrell Lance, Lake Avenue Baptist Church, Rochester
Gail M. Mastrella, Dignity-Integrity, Rochester
Rev. Peggy Meeker, Unitarian Universalist, Rochester
The Rev. Dr. Melanie May, Colgate Rochester Crozer Divinity School, Rochester
Elder Gail Mott, Downtown United Presbyterian Church, Rochester
Elder Peter Mott, Downtown United Presbyterian Church, Rochester
The Rev. James F. Mulcahy, Open Arms Metropolitan Community Church, Rochester
Rev. Alan G. Newton, Baptist, Rochester
Chaplain Michael J. Nicosia, Roman Catholic, Rochester
The Rev. Dr. Peter W. Peters, Church of St. Luke & St. Simon Cyrene, Rochester
The Rev. Samuel Picard, Laurelton United Presbyterian Church, Rochester
The Rev. Steven Price, United Church of Christ, Rochester
Rev. Cynthia Rasmussen, St. Thomas Episcopal Church, Rochester
The Rev. Gail A. Ricciuti, Colgate Rochester Crozer Divinity School, Rochester
Rabbi Amy Sapowith, Temple Sinai, Rochester
The Rev. Stephanie L. Sauve, Colgate Rochester Crozer Divinity School, Rochester
Rev. Margaret Scott, United Methodist, Fairport
Father Patrick M. Shanley, Roman Catholic, Rochester
The Rt. Rev. Prince Singh, 8th Bishop of the Episcopal Diocese of Rochester, Fairport
Elder Jim Stewart, Third Presbyterian Church, Rochester
Lay Minister Marion Strands, Rochester
The Rev. Marilyle Sweet Page, St. Mark's & St. John's Episcopal Church, Rochester
Rev. Scott Tayler, First Unitarian Church of Rochester
Marilyn Tedeschi, Christian Spiritualist, Rochester
Ginny Tucker, First Unitarian Church of Rochester
The Rev. Gordon V. Webster, Downtown United Presbyterian Church, Rochester
Katherine A. Welch, Spiritus Christi Church, Rochester
Rob White, Third Presbyterian Church, Rochester
The Rev. John Wilkinson, Third Presbyterian Church, Rochester
The Rev. Dr. C. Denise Yarbrough, St. Mark's Episcopal Church, Penn Yan
The Rev. Patricia Youngdahl, Downtown United Presbyterian Church, Rochester