The Church of Latter Day Saints this evening issued a statement at hearings on an ordinance that would extend housing and employment protections to gays and lesbians in Salt Lake City.
Watch a news report on the vote, AFTER THE JUMP...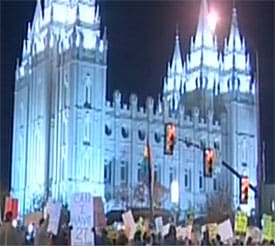 The endorsement combined with passionate debate from citizens prompted the Salt Lake City Council to go ahead and vote on the ordinance, which they hadn't planned to do. The Council voted unanimously to approve it:
"Passage made Salt Lake City the first Utah community to prohibit bias based on sexual orientation or gender identity. Under the two new ordinances, it is illegal to fire someone from their job or evict someone from their residence because they are lesbian, bisexual, gay or transgender. Utah lawmakers tend to quickly fall in line when the influential church makes a rare foray into legislative politics. So Tuesday's action could have broad reaching effects in this highly conservative state where more than 80 percent of lawmakers and the governor are church members. 'What happened here tonight I do believe is a historic event,' said Brandie Balken, director of the gay rights advocacy group Equality Utah. 'I think it establishes that we can stand together on common ground that we don't have to agree on everything, but there are lot of things that we can work on and be allies.'"
Here's the text of the Mormon statement, delivered by Michael Otterson, managing director of the LDS Church's Public Affairs at tonight's hearings:
"My name is Michael Otterson, and I am here tonight officially representing The Church of Jesus Christ of Latter-day Saints. The non-discrimination ordinance being reviewed by the City Council concerns important questions for the thoughtful people of this community.

"Like most of America, our community in Salt Lake City is comprised of citizens of different faiths and values, different races and cultures, different political views and divergent demographics. Across America and around the world, diverse communities such as ours are wrestling with complex social and moral questions. People often feel strongly about such issues. Sometimes they feel so strongly that the ways in which they relate to one another seem to strain the fabric of our society, especially where the interests of one group seem to collide with the interests of another.

"The issue before you tonight is the right of people to have a roof over their heads and the right to work without being discriminated against. But, importantly, the ordinance also attempts to balance vital issues of religious freedom. In essence, the Church agrees with the approach which Mayor Becker is taking on this matter.

"In drafting this ordinance, the city has granted common-sense rights that should be available to everyone, while safeguarding the crucial rights of religious organizations, for example, in their hiring of people whose lives are in harmony with their tenets, or when providing housing for their university students and others that preserve religious requirements.

"The Church supports this ordinance because it is fair and reasonable and does not do violence to the institution of marriage. It is also entirely consistent with the Church's prior position on these matters. The Church remains unequivocally committed to defending the bedrock foundation of marriage between a man and a woman.

"I represent a church that believes in human dignity, in treating others with respect even when we disagree – in fact, especially when we disagree. The Church's past statements are on the public record for all to see. In these comments and in our actions, we try to follow what Jesus Christ taught. Our language will always be respectful and acknowledge those who differ, but will also be clear on matters that we feel are of great consequence to our society.

"Thank you."
The gay and lesbian Mormon group Affirmation praised the church's actions. Said Affirmation Assistant Executive Director Micah Bisson: "We pray that the words spoken tonight are to be followed up with positive action. It is time to eliminate the heavy-handed church actions to defeat marriage equality and protections for transgender people. When LDS officials arrest gay people for public affection on Temple Square, we need to realize that all Mormons, and the LDS church itself, look small-minded to people who are outside the tradition."
Earlier today, the filmmakers behind 8: The Mormon Proposition said that Mitt Romney saw their film and put pressure on the LDS Church to "extend an olive branch to the gay community to try and deflate the anticipated negative press" that would come from its release, over concern with an anticipated 2012 Presidential campaign.
*****
Earlier...
The Salt Lake City Council is holding public hearings this evening on an ordinance involving housing and employment protections for gay and lesbian residents, the Deseret News reports:
 "The public can comment Tuesday during a Salt Lake City Council hearing on the ordinances, believed to be the first of their kind in Utah. The ordinances would make it illegal to fire or evict someone because of their sexuality. 'For the capital city to take this step is huge,' said Will Carlson, public-policy director for the gay and lesbian advocacy group Equality Utah. 'It would send a message, not only to residents, but across the country.' The ordinances would establish a process within the city for tenants and employees to file discrimination complaints based on sexual orientation."
Towleroad has heard from several sources that representatives from the Church of Latter Day Saints are going to attend the hearings and have a "monumental" announcement to make — which we've heard may be an endorsement of the ordinance.
Watch a news report on the vote, AFTER THE JUMP...