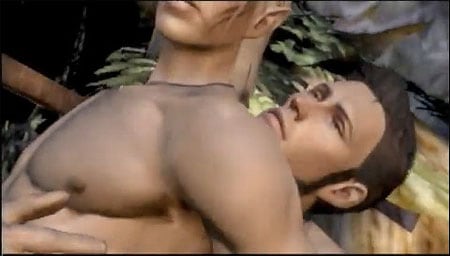 The new Playstation and XBox360 BioWare game Dragon Age: Origins features a secret gay sex scene:
"Access to the hands-on scene can only be granted if the player uses the right combination of cheesy chat up lines to seduce the warrior elf. In a clip posted online, the gamer-controlled human character runs through the correct list of options, starting with the inevitably cheesy, 'I want to discuss something personal' – one of four dialogue options available He then makes his intentions explicit with 'Can you join me in my tent?' before coming in for the kill with, 'I bet you're good at a lot of things'."
Watch it (video probably nsfw), AFTER THE JUMP...
Writes Gay Gaymer: "With this bare-chested and unflinching portrayal, it feels as if the depiction of gay sex in video games has reached a new level of equal treatment. This is more than just a mincing gay pirate (Temple of Elemental Evil) or an evasive fade-to-black: there's choreography, tenderness, humor and even an element of sexual politics to Zevran's post-coital conversation."