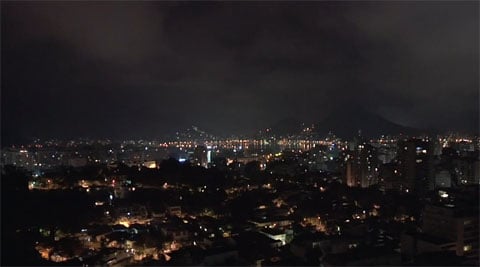 Bloomberg reports on the outage:
"Power was restored in Brazil after an outage at a dam providing 20 percent of the country's energy thrust about half of the nation's 190 million people into darkness for at least two hours.The 14,000-megawatt Itaipu Binacional hydroelectric dam said operations were back to normal at 6 a.m. local time after transmission failed, causing the world's largest dam by output to forcibly shut down for the first time since it went online in 1983. The government is investigating the incident....'The problem was a result of the lack of investment in transmission lines,' said Adriano Pires, head of the Brazilian Center for Infrastructure, a research group, in a Bloomberg TV interview today. 'The government missed a great opportunity to modernize its electricity system when the economy was growing at a faster pace and now has to do its homework as the country will host the Soccer World Cup in 2014 and the Olympic Games in 2016.'"
Watch the lights come back on in Rio, AFTER THE JUMP...
And for those of you wondering what Madonna and Jesus were doing...
(via Made in Brazil)