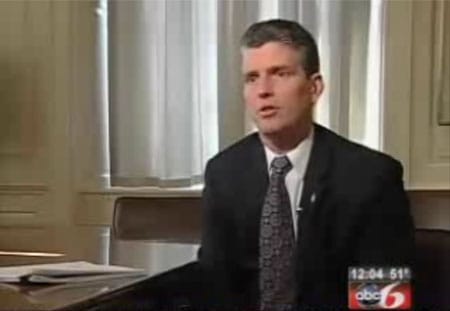 Rhode Island Attorney General Patrick Lynch has criticized Governor Donald Carcieri's veto of a bill that would have given gays and lesbians the right to make funeral arrangements for their deceased domestic partners.
Said Carcieri: "This bill represents a disturbing trend over the past few years of the incremental erosion of the principles surrounding traditional marriage, which is not the preferred way to approach this issue. If the General Assembly believes it would like to address the issue of domestic partnerships, it should place the issue on the ballot and let the people of the state of Rhode Island decide.''
Respoonded Lynch, who is running for governor in 2010: ""I can only describe the Governor's veto as cruel and heartless.By vetoing this bill, he has demonstrated that he believes gay and lesbian Rhode Islanders are second-class citizens. If this bill comes before me as Governor, I will sign it immediately. It takes more than just talk to demonstrate a commitment to equality for all. It takes action. I have a record of proactively fighting for equality for gay and lesbian Rhode Islanders and I pledge to continue this fight as Governor."
Watch ABC6's report, AFTER THE JUMP...