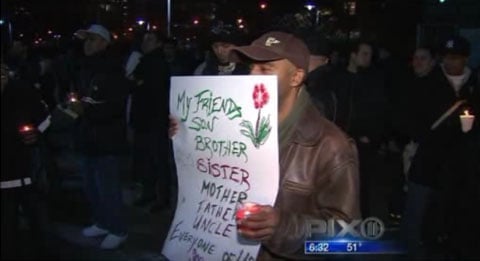 Thousands attended a vigil last night at Pier 46 on the edge of New York's West Village. Similar vigils took place in cities around the country in response to the murder of Puerto Rican gay teen Jorge Steven Lopez Mercado. Last weekend the decapitated, dismembered, and partially charred body of gay teen Jorge Steven Lopez Mercado was found by the side of a road in Puerto Rico. The police investigator suggested that he deserved what he got because of the "type of lifestyle" he was leading. Juan Martinez Matos has been charged with first-degree murder for Mercado's death.
In NYC, Christine Quinn, Council member-elect Danny Dromm, GLAAD President Jarrett Barrios, and fashion designer Malan Breton spoke to the crowd.
Watch a news report and video from New York City, and a wrap-up of San Francisco's event, from Sean Chapin, AFTER THE JUMP...
Previously...
Nationwide Vigils Planned as Officials Mull Application of Federal Hate Crimes Law [tr]
Puerto Rican Teen's Killer Says Murder was 'Gay Panic', Self Defense [tr]
Suspect Arrested in Horrific Murder of Puerto Rican Gay Teen [tr]
Gay Puerto Rican Teen Decapitated, Dismembered, and Burned [tr]
Christine Quinn, Council member-elect Danny Dromm, GLAAD President Jarrett Barrios, fashion designer Malan Breton:
The San Francisco vigil, video by Sean Chapin: