In Uganda, where the "kill gays" bill is pending, Pepsi recently sponsored a concert by murder music singer Beenie Man, Box Turtle Bulletin reports: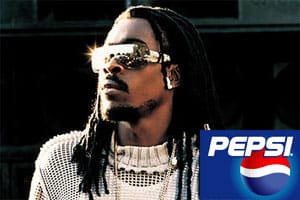 "The King of Dancehall stuck a sword of words into gay people through singing and talking. 'In my family, we don't have any gay person but if you're gay, my brother that's not my fault,' he said as he performed his song Mi Nah Wallah, in which he says he would like to cut the throats of all gay men. George Bush and Bin Laden were also at the receiving end of the Jamaican's wrath calling on the audience to say 'murderer' as he sang about the pair's warfare."
The Pepsi-sponsored concert also had a promotional tie-in with Toyota.
In related news, the L.A. Gay & Lesbian Center has condemned a recent Grammy nomination for murder music singer Buju Banton. Said public affairs officer Jim Key: "We're shocked that Buju Banton, a singer with a long record of performing a song that glorifies the murder of gay people, would be honored with a Grammy nomination, regardless of the artistic merit of any of his work...Throughout his career, Banton has performed music that promotes a culture of violence against lesbian and gay people; he sings in 'Boom, Bye Bye' that 'faggots get up and run' when he comes, that 'they have to die,' and that he will shoot them in the head or 'burn them up bad.' He is completely unrepentant, refuses to stop performing the song."
Watch Rachel Maddow's recent segment on the Uganda "kill gays" bill, AFTER THE JUMP...
Visit msnbc.com for breaking news, world news, and news about the economy