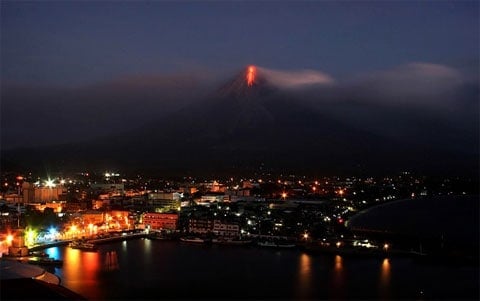 Officials are preparing for a massive eruption of Mt. Mayon in the Phillippines, about 310 miles south of Manila. More than 30,000 have been evacuated:
"Trickles of lava rolled down the 8,070-foot (2,460-meter) mountain towering over the Albay Gulf in the central Philippines, while five new ash explosions, one of them reaching 550 yards (500 meters) in the air, shook Mayon's steep slopes, said chief state volcanologist Renato Solidum. During the day, the summit is shrouded in white clouds of dust and ash, and dark orange lava becomes clearly visible in the nighttime. Residents of Legazpi city on the foothills of the cone-shaped mountain converge in a downtown park at night to watch the spectacle from a safe distance. 'There is the possibility that it can turn into the explosive phase of the eruption,' Solidum told The Associated Press. 'Right now, we cannot say for sure, but the initial phases of 2000, 2001 and 2006 eruptions are almost the same.'"
Check out a couple of videos shot from 35km away, AFTER THE JUMP...
December 15, 5:32 pm (the sound of the wind and a neighbor's karaoke machine combine to make a particularly foreboding sound for some reason):
December 16, 3:04 pm: