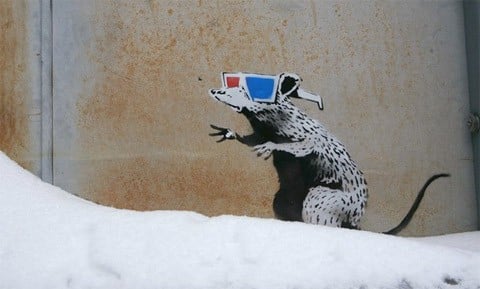 A "pseudo-documentary" directed by graffiti artist/prankster Banksy is set to make its debut this Sunday at the Sundance film festival, and as a prelude, artworks by the artist have sprung up around Park City (a small selection of them here).
Writes Movieline: "...for once, festival organizers said in a release sent out this morning, you'll see the artist at work along with Shepard Fairey, Invader and other renowned graffiti kingpins. Not that the movie doesn't have a story, we're told: 'Exit Through the Gift Shop is the story of how an eccentric French shop keeper and amateur filmmaker attempted to locate and befriend Banksy, only to have the artist turn the camera back on its owner with spectacular results,' the festival announced."
More details on the content of the film here.
Watch the trailer, AFTER THE JUMP...